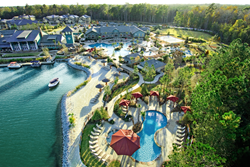 Best Fresh Water Fishing Lakes in the Lowcountry
Hilton Head, South Carolina (PRWEB) February 09, 2016
Of all the man-made lake property in South Carolina, few communities are more impressive than Hampton Lake, with its 165-acre fresh water lake and 15 miles of shoreline. Located in the heart of Lowcountry, the lake is a haven for those who love to indulge in natural surroundings, with fishing, swimming, boating, and other fun outdoor activities. It also is a place for celebrations and memorable events, such as the upcoming Military Heroes Fishing Classic at Hampton Lake in Bluffton.
The Inaugural Military Heroes Fishing Classic is scheduled for April 3-4, 2016 to raise funds for military charities supported by the Lowcountry Foundation for Wounded Military Heroes (LFWMH). The event will begin on the evening of Sunday April 3, as Hampton Lake holds a fun, relaxing, and motivational gala for the entire family featuring food, soft drinks, unlimited beer (cash bar for wine & spirits), silent and live auction bidding, and live music featuring The Chiggers and Bluffton High School Jazz Ensemble. Tickets are $30 and open to the public, and will have limited attendance, so make reservations in early by emailing fishwithheroes@hargray.com or call 843.815.6339.
On Monday April 4 is Hampton Lake's marquee Fishing Classic catch and release tiger bass tournament. Limited to 200 participants. 50 boats are expected to fish for largemouth tiger bass in excess of 7 lbs and spring spawn at its peak. An award reception will follow the tournament with a buffet lunch, prizes, and more. Individuals can participate with a $100 donation and various sponsor levels.
Over the past five years, Lowcountry Foundation for Wounded Military Heroes has raised over $500,000, and anticipates that 2016 events will at least match, if not surpass, those previous efforts. For more information or to register for the tournament please visit http://www.woundedmilitaryheroes.org
In addition to events like this, Hampton Lake has a world of top amenities to offer. The highlight is the lake itself, with creeks, coves, wildlife, and surrounding woods and wetlands. Complimenting this lake property in South Carolina, are 340 acres of well-protected forest, exclusively for Hampton Lake's residents and guests, who enjoy the natural canopy on trails and wooden boardwalks. Other amenities at Hampton Lake's lake property in South Carolina include:

Adventure Lagoon, a lakefront clubhouse with swimming, fitness, dining and more
Doc's Boathouse, with covered boatslips and "all things boating"
Fish Nets Tennis Center, with 3 Har-Tru tennis courts
Dogpaddle Park, where you can play with your four-legged friends
Blueways and Greenways Championship Golf, at two nearby private communities
And as for comfortable Lowcountry living, Hampton Lake offers beautiful Bluffton SC real estate. In the community's brand new phase 3 neighborhood, there are lakefront homesites featuring elegant new cottage homes. Existing options include single family estates, lakefront villas, and a variety of affordable townhomes. Hampton Lake's Bluffton SC real estate and new cottage homes range from the mid $300k to upwards of $1 million. Whether folks have a big, active family, or prefer to live a quite life in retirement, Hampton Lake's award-winning community has a home for everyone.
Be sure to see the opportunities to live on the lake in their new Phase 3. It's a perfect place to explore Bluffton SC real estate and new cottage homes. The Military Heroes Fishing Classic is great time to get acquainted, as well as show support for America's military heroes.
Plan your visit by calling (866) 875-LAKE.
About Real Estate Scorecard:
Real Estate Scorecard writes unbiased real estate reviews providing in-depth information about popular gated communities in Florida, Georgia, the Carolinas, Tennessee and Central America, all in an effort to help people discover where to retire in the South.
Website: http://realestatescorecard.com