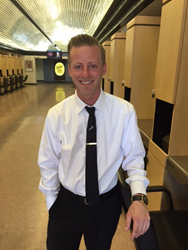 We're a family here...our students are the most important part of that family
(Upland, CA) (PRWEB) February 09, 2016
Salon Success Academy has offered to help displaced Marinello Schools of Beauty students, in the wake of the school's closing. According to the LA Times, Marinello has been forced to close and shutter its 39 campuses in California. Salon Success Academy Vice President of Operations Jeff Gross has vowed that his school will help in any way that it can. Gross has spoken directly with former Marinello students and is assuring them that they can continue on the career path they set out on.
"Now is the time our industry needs us to come together," said Gross. "In many ways we're just one big community and that community is hurting right now."
Gross hosted a few impromptu meetings at the Salon Success Academy Upland campus last week where he fielded questions from former Marinello students in an attempt to allay their fears. He offered them assurances that they would not lose all their hard work and accomplishments. Although the details of what Salon Success Academy will be able to do for Marinello students are still developing, Gross told students that he can personally attest that staff at both schools are working hard to help them fulfill their dreams.
"It's just nice to remind them that people really do care about them and the careers they are pursuing," said Gross. "They are rightfully concerned and I thought it was important that we take some time to answer any questions they might have and let them know that we won't stop working until we find the best possible solution."
Gross pointed to the Salon Success Academy motto of being a "people helping company" and said that he and his staff welcome the opportunity to stand by the philosophy that was put into place some 60 years ago by his grandfather.
"We're a family here," said Gross. "We call ourselves the Salon Success family and we believe our students are the most important part of that family. We're ready to welcome new members all the time."
About Salon Success Academy:
Salon Success Academy has been training top professionals in the beauty industry for 60 years. The school offers hands-on training in cosmetology, esthetics and barbering. It has five locations throughout the Inland Empire of California in Upland, Corona, Fontana, Redlands and Riverside. If you would like to learn more about training for a new career with Salon Success Academy, call 877-987-HAIR (4247) or visit: http://www.gotobeautyschool.com/.