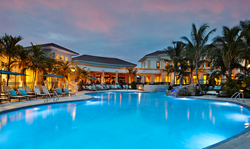 We'd like to congratulate The Club at Ibis for earning Distinguished Emerald Club status.
West Palm Beach, Florida (PRWEB) February 10, 2016
The Club at Ibis (formerly Ibis Golf & Country Club) announced that it has been awarded the prestigious Distinguished Emerald Club of the World award, as determined by the annual Distinguished Clubs of the World award program conducted by BoardRoom magazine, one of the most respected trade publications serving private clubs.
"We'd like to congratulate The Club at Ibis for earning Distinguished Emerald Club status," said John Fornaro, Publisher of BoardRoom magazine, "Special recognition also goes out to The Club at Ibis's General Manager, Stephen J. LoGiudice, as well as the club's board of directors, its department heads, and entire staff for their efforts in providing an excellent member experience."
In addition to this great achievement, BoardRoom has also recognized a number of Ibis's management team with Distinguished Achievement in Leadership awards. They are as follows:

Director of Golf Ben Bauer for Golf
Director of Golf Course Maintenance Matt Masemore for Golf Course
Director of Sales & Marketing John Jorritsma for Membership
Director of Operations Sharon Meirav for F&B
Executive Chef Jerome Nicolas for Culinary
Director of Sports Chuck Gill for Tennis, Fitness, Spa, and Aquatics
For fine private clubs that operate at the highest standards, BoardRoom magazine's Distinguished Clubs award program uses a club-specific rating system that recognizes the club, its management, and its staff based on a proprietary criteria and evaluation process that distills and measures a club's member experience. As such, the rating system used by Distinguished Clubs is different from any that has come before, and with it, the private club industry now has the means to identify the top private clubs based on the most important aspect: Member Experience.
BoardRoom also named Peter A. Miller, President of the Ibis Board of Directors, as one of the top 22 Private Club Presidents of the Year. Mr. Miller recently stated, "Our goal is to enhance the active lifestyle of our existing and future members, and our new Clubhouse and Sports Village will provide a multifaceted resort experience."
BoardRoom magazine developed the Distinguished Clubs of the World award program to recognize and share – with the private club industry as a whole – what it is that Distinguished Clubs do differently, and to do so with the specific goal of improving the Member Experience at every private club, and thereby helping to preserve the institution of private clubs for many future generations.
#####
About The Club at Ibis
Ibis is a secure, gated collection of 33 distinctly different neighborhoods, located on the quiet edge of northern West Palm Beach and just minutes from the heart of the city. It is adjacent to the pristine Grassy Waters Nature Preserve, a 12,000-acre, state-protected preserve, with wildlife, birds, and tropical vegetation. The Clubhouse recently completed a major enhancement and expansion to include three new dining venues and banquet accommodations up to 450 members. A new Sports Village opened in 2014 to include fitness facilities, pools, a 4,100-square-foot spa, and a yoga wall. The 16 court Tennis Center holds friendly tournaments and weekly group play. Golf is center stage and offers 54 holes on three Nicklaus family-designed championship golf courses. Top golf instruction is headed by Martin Hall, ranked by Golf Digest as one of the game's Top 50 instructors. For more information, call 561.625.8500 or visit http://www.clubatibis.com.