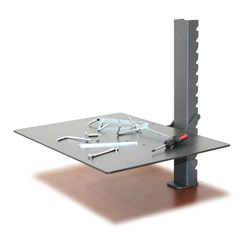 Reduced headaches, fatigue and muscle pain are other benefits that users have gained after they started using the ergonomics products.
Burnsville MN (PRWEB) February 10, 2016
A national ergonomics pioneer, HealthPostures, has announced that it will attend the Ohio Safety Congress and Expo event March 9-11, 2016. Hosted by Ohio's Bureau of Worker's Compensation, the expo will be held at the Greater Columbus Convention Center.
As the longest running and largest worker's compensation event in Ohio, organizers of the safety congress and expo expect up to six thousand representatives from ergonomics businesses, government agencies and private and publicly owned organizations to attend. HealthPostures will be represented at the Ohio Safety Congress and Expo by Cassandra Loebrick.
In addition to being able to speak with a HealthPostures' representative face-to-face, receiving firsthand answers to their ergonomics questions, attendees can also observe how HealthPostures' ergonomics designs operate. Ergonomics products that Cassandra will exhibit at the event are the electric TaskMate Executive, the Assisted Lift Single and dual monitor versions of HealthPostures' TaskMaate Go and the manual lift TaskMate EZ.
Cassandra shares that "HealthPostures will also exhibit the Stance Move and the newly designed Stance Angle chair." More energy, enhanced mobility and musculoskeletal support are benefits that users have gained while using these and other HealthPostures' workplace solutions. Reduced headaches, fatigue and muscle pain are other benefits that users have gained after they started using the ergonomics products.
Cassandra will also be available to discuss ergonomics accessories like the TaskMate Go Laptop, copy and phone holders, TaskMate Go Organizer and the dual monitor. A highlight of the event is that expo attendees who stop by HealthPostures' booth can enter a drawing to receive a free TaskMate Go.
There may be no other event in Ohio where thousands of business owners, human resources professionals, healthcare leaders, government professionals and entrepreneurs can get their ergonomics and workplace safety questions answered firsthand. As many as 200 educational sessions, some which offer continuing education credits, will be offered at the safety expo.
Topics scheduled to be covered during the educational sessions cover ways to prevent workplace injuries and achieve improved outcomes for workers who become injured. Other topics will focus on ways to reduce worker's compensation events and claims and effective ways to keep Ohio workers safe and work related injury and illness free.
About HealthPostures
Founded in the 1990s, HealthPostures LLC (https://healthpostures.com) has been a leader in the workplace solutions space for more than two decades. The company specializes in the design and manufacturing of workplace solutions. Products that HealthPostures develops may help to relieve back and neck pain, headaches and other musculoskeletal disorders. A primary mission of HealthPostures' is to "strive to provide quality products that will help transform your sedentary life so you have a healthy way to work." Sought after ergonomics equipment, including sit stand products, that HealthPostures designs include surface Taskmates, the TaskMate Go Laptop, dual monitor sit stand work stations and Stance move seat extensions. The company's strong reputation and proven products and accessories continue to attract distributors and resellers.
Contact:
HealthPostures LLC
14310 Ewing Avenue South, Suite 100
Burnsville, MN 55306
800-277-1841
https://healthpostures.com
Sources:
https://www.bwc.ohio.gov/employer/programs/safety/safetycongress.asp