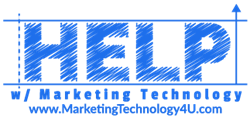 "A well thought out Marketing and Sales Ecosystem defines the new competitive advantage in business today."
Tampa, FL (PRWEB) February 10, 2016
Today companies of all sizes and types have an imperative to more effectively conduct business within the Digital Domain.
A new Tampa Bay-based business, HELP w/ Marketing Technology, LLC, launches this month to "help" companies plan, design, build and better utilize these increasingly powerful and complex Digital Marketing Ecosystems. Sales and Marketing efforts must now be aligned, digital and connected with Technology, Strategy, People and Processes. The landscape of available Applications that comprise these Marketing and Sales Ecosystems now exceeds the 2,000 mark.
"Digital Solution Sourcing Confusion is becoming a very real state of mind for organizations on a quest to advance their effectiveness in this increasingly essential core area of business capabilities. Your online Brand Experience is no longer just the responsibility of the Marketing department." stated Doug Richardson, President and Co-Founder of HELP w/ Marketing Technology, LLC. "We are unique in that we are not an Advertising Agency or an I.T. Company, though we have many of the skill-sets of both to fulfill this rapidly growing business development need." Richardson said.
Most organizations lack the in-house structure and /or know-how to fully establish Digital Marketing and Sales Lead Generation systems with a consistent, well focused Customer Experience. HELP w/ Marketing Technology (aka, HELP) has developed a comprehensive and proprietary "Process-Step Methodology" to guide companies through the formation of the ten key Strategy Groups and Six Process-Step Phases of Marketing and Sales Ecosystem implementation. HELP w/ Marketing Technology's CEO, David Miller commented on HELP's Process-Step Methodology… "I wish a company like HELP w/ Marketing Technology existed when we started the digital transformation at my own companies. I had to hire multiple Technology and Marketing vendors for multiple applications with varying levels results, there was no overall Strategy or Ecosystem collaborative synergies present in dealing with these separate vendors."
HELP w/ Marketing Technology's five person team serves as both the Ecosystem's Architect and General Contractor. We lead client companies through a custom designed Digital Transformation that benefit the entire organization's growth through a deeper understanding of their best customers needs by the use of Marketing Automation, Social Media, Inbound and Content Marketing methodologies. Hubspot and Salesforce are two market leading technology applications that HELP demystifies for clients to manage a wide range of business development strategies resulting in substantially more valuable insights and loyal relationships with your most important markets and customers.
"We seek clients who want to take a holistic approach to advancing their organization's presence in the ever growing Digital Community. "A well thought out Marketing and Sales Ecosystem defines the new competitive advantage in business today."... states Mr. Richardson. The company offers potential clients both a FREE Ask An Expert consultation and a Digital Status-Check Survey
Much more information about HELP w/ Marketing Technology, LLC. range of services, processes and thoughts on Digital Transformation strategies exist at HELP's newly launched Hubspot Content Optimization System (COS) based website @ http://www.marketingtechnology4u.com or read and subscribe to their "Thoughts on Strategy" Blog
HELP w/ Marketing Technology, LLC • (727) 831-1969 • 9821 Gulf Blvd. Treasure Island, FL 33706
MarketingTechnology4u(dot)com • Inbound(at)MarketingTechnology4u(dot)com