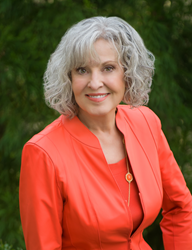 (PRWEB) February 10, 2016
AHRA: The Association for Medical Imaging Management announced today that four time Emmy award winner and inspirational speaker Jan Fox will serve as keynote speaker at the organization's 2016 Spring Conference. Fox's topic, Lead with Conviction by Speaking Boldly will provide participants with tools to more effectively communicate with their own organizational staff and leadership.
"I am so excited to meet and engage with AHRA members and medical imaging leaders who are at the heart of the healthcare continuum for patients across the country," said Fox. "I'm confident everyone will walk away with additional resources to be stronger leaders who speak boldly and with conviction."
Fox's interactive, prop filled signature keynote will focus on increasing one's impact, advancing purpose, engaging teams, perfecting "CHANGEspeak," and showing newfound confidence.
The 2016 AHRA Spring Conference will be presented March 15-17, 2016 at The Palmer House in Chicago, IL. In addition to Jan Fox's keynote, the conference will feature the Advanced Track, in which industry experts will provide strategies to help tackle the challenges of healthcare's rapidly changing landscape, and the Basic Track, designed to expedite the onboarding process for new managers or reboot the skills of existing leader. A one day CRA workshop will also be presented for imaging professionals who want to test their current knowledge base and/or prepare for taking the CRA exam.
Conference details as well as individual and group registration are available online at http://www.ahraonline.org/SpringConference. People can also register through AHRA Member Services by calling (978) 443-7591.
About Jan Fox
Jan Fox, a four-time Emmy winning journalist, was a reporter and anchor for almost 20 years at WUSA TV 9 CBS in Washington, DC. In Boston, she hosted an award winning talk show on ABC and, in Portland, ME, she anchored the 6 pm and 11 pm newscasts on NBC. She is currently on the speaking circuit, inspiring audiences to speak BOLD speaking. She also coaches corporate executives, entrepreneurs, and associations to speak BOLDly to get their messages out to those who need them most. She is a member of the National Speakers Association and was the DC Chapter's Member of the Year.
About AHRA: The Association for Medical Imaging Management
AHRA is the professional organization representing management at all levels of hospital imaging departments, freestanding imaging centers, and group practices. Founded in 1973, AHRA's 5000+ members reach across the country and around the world. AHRA offers a complete slate of professional development programs, including a comprehensive selection of educational conferences and seminars, networking opportunities, award winning publications, and the Certified Radiology Administrator (CRA) credential. More details about AHRA are available at http://www.ahraonline.org