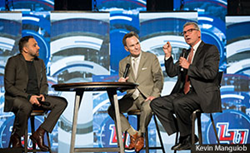 Lynchburg, Virginia (PRWEB) February 08, 2016
Liberty University students learned lessons in servant-leadership on Monday from one of the most accomplished CEOs in the country and a well-known Christian leader. Donnie Smith, president and CEO of Tyson Foods Inc. (No. 83 on the Fortune 500 list) shared some of the principles he lives by. He joined his pastor, Dr. Ronnie Floyd, president of the Southern Baptist Convention (SBC), for a Q-and-A during Liberty's Convocation moderated by David Nasser, Liberty's senior vice president for spiritual development. Floyd talked about pastoring leaders and praised Smith for his commitment to godly character as he leads one of the world's largest producers of meat and poultry.
Smith explained that he did not inherit his position; he worked his way through the ranks of the company. After graduating from the University of Tennessee with an animal science degree, Smith joined Tyson, working with its chicken farmers. Along the way, he worked with a feed mill, purchasing, supply/transportation, and, eventually, as Tyson's CIO. In the midst of a downturn in 2009, Smith was asked to lead the company. Since then, he has worked to instill a positive work culture.
While some may think business is simply about "math and marketing," Smith explained that success begins with servant-leadership. "What does leading the right way really mean? $18 billion and counting," he said, referring to the difference in Tyson's stock equity value under his leadership.
"What really matters in business and life is how you lead and the culture that you develop," Smith said. "We talk a lot about servant-leadership. I think that has really been the 'magic sauce' that has created the turnaround at Tyson."
Smith said he does not view himself as a leader atop a pyramid, but rather as the roots of a tree, providing the resources and encouragement to the "real stars of the show," those who produce and sell the product, ultimately making the company successful.
"People just want to be able to be in an organization where what they do matters," he said.
Smith shared some keys to being successful in life, which include focusing on a few areas and choosing not to focus on others — creating to-do lists, but also "to-don't lists" — as trying to do too much becomes distracting.
Floyd added that no matter how busy a person gets, it is important to make time to pray and read the Bible.
"God wants you to live your life on mission for Him," Floyd said. "You need to get in the word of God and you need to really listen to God."
As the leader of a large church (Cross Church in northwest Arkansas) and the SBC, Floyd said that making time for what is important, including family and devotions, must remain a priority — even if that means getting up earlier. Floyd said that he gets up at 3 a.m. five days a week. He said that you can tell what people value by how they schedule their time.
"If you ask someone their schedule, you learn what is important to them, what is a priority to them, and what in the world they do with their time," Floyd said.
Smith stressed the importance of leading with integrity and being consistent in all areas of life.
"There is not a 'church Donnie' and a 'home Donnie' and an 'at the ball game Donnie' and an 'at work Donnie.' There is just a Donnie," he said.
Smith added that it is important to realize that ultimately, no matter who someone's employer is, they ultimately work for God.
"I am not supposed to forget who I am and who I work for when I go to work," he said.
Floyd and Smith were visiting as part of Liberty's Global Focus Week, where students are encouraged to consider ways they can be involved in God's work around the world.
About Liberty University
Liberty University, founded in 1971, is the largest private, nonprofit university in the nation, the largest university in Virginia, and the largest Christian university in the world. Located near the Blue Ridge Mountains on more than 7,000 acres in Lynchburg, Va., Liberty offers more than 500 unique programs of study from the certificate to the doctoral level. More than 200 programs are offered online. Liberty's mission is to train Champions for Christ with the values, knowledge, and skills essential for impacting tomorrow's world.