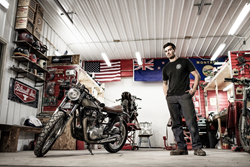 I want to give [vintage bikes] a second chance... It's pretty darn neat when you roll up on a bike that you built and everyone wants to know all about it.
Los Angeles, CA (PRWEB) February 09, 2016
Experts Rank Air-Cooled Carbureted Modern Classic Platforms as Most Customizable, Affordable, Accessible
For the past seven years, Portland, OR has been home to one of the most innovative and influential custom motorcycle shows in the country: The One Moto Show. For each annual show, a community passionate about meticulously handcrafted vintage motorcycles gathers to appreciate some of the most unique custom motorcycles in the scene. The custom motorcycle builders displaying their work are all handpicked by the event's founder Thor Drake, an accomplished motorcycle racer, builder, and Hollywood ex-pat considered by some to be a motorcycle legend in the making.
British Customs interviewed some of the most respected and innovative builders who will be present at the show, and published the interviews on their website. These include Hill Hudson of The Escape Collective, Craig Marleau of Kick Start Garage, Ian Halcott of Twinline Motorcycles, Carl Bjorklund of Super Rat, Jared Johnson of Holiday Customs, Josh Steele and Chris John of Vintage Steele, Colin Cornberg of No. 8 Wire Motorcycles, Tony Prust of Analog Motorcycles, and Paul Miller of PanicRev Customs. Each builder is noted for their own unique sense of style, caliber of craftsmanship, desire to give back to the community, and their passion for the new heritage of motorcycles.
In the interviews, the builders discuss their upbringing, what led them to discover motorcycles, cultivating a "make it instead of buy it" mindset, the importance of giving back, and their respect for the vintage.
When asked why he prefers to work on vintage motorcycles, Craig Marleau of Kick Start Garage answered, "It might sound sentimental, but it's because I want to give them a second chance. When you find them, they're either beat down or forgotten, and nobody thinks it's cool because it's just an old bike. But it's pretty darn neat when you roll up on a bike that you built and everyone wants to know all about it. Vintage bikes aren't cookie cutter bikes: they're unique, and you can be proud of them."
The One Moto Show was conceived by a group of motorcyclists who purchased vintage motorcycles on the cheap and restored them to useable condition. After having spent time working on them, they discovered the character of these older motorcycles and wanted to show them off to share their experiences and newfound appreciation for things with history. Many of the builders and attendees of the event have followed similar paths. The styles of motorcycle displayed at the event range from cafe racers and trackers to one-of-a-kind creations that defy all categorization.
When asked about what kind of motorcycles they prefer to work on, the most common response among those interviewed was that they prefer to work on air-cooled carbureted motorcycles for how easy they are to work on, their affordability, and their deep ties to the foundational heritage of motorcycling.
"We enjoy working on all bikes, anything with two wheels — even three wheels — gets us excited. Our personal preference is carbureted air-cooled systems though," stated Josh Steele and Chris John of Vintage Steele. "Everything is exposed on those bikes, making them easy to work on. You also have the most control over a carbureted bike, since there aren't any blackbox electronics to deal with."
Many of the builders interviewed also discuss their thoughts on the future of the motorcycle industry and custom motorcycle scene. These experts generally believe that the future of motorcycling lies in those riders who have a deep respect for heritage who want their bikes to reflect that in their styling. These include the ground-breaking BMW R nineT, the Ducati Scrambler, the Triumph Bonneville, and a growing list of others. Riders, they said, find themselves wanting vintage-styled bikes made to modern standards that can be customized with a wider availability of parts made from quality materials.
The One Moto Show takes place this year from February 12 through February 14 in Portland, OR. 80 handpicked custom motorcycle builders will put their best work on display. Motorcycling legend Eddie Mulder will be in attendance as a guest of honor. Numerous other motorcycle community figures and influencers will be in attendance, including Cafe Racers of Instagram. Admission is free, and the event closes with a flat track race at the Salem Fairgrounds. The event is proudly sponsored by vintage enthusiast brands including BMW, Harley-Davidson, See See Motorcycles, Danner, Brixton, Icon, RSD, Sideburn Magazine, Icon, Electric, Dehen, Red Clouds, and FTW Company.
About British Customs:
British Customs is a Southern California-based lifestyle brand and designer of aftermarket motorcycle parts. They are known for making the highest quality factory-spec bolt-on parts that only require common tools and minimal technical knowledge to install. With any of their parts upgrades, the average rider can completely customize his or her motorcycle in a weekend.