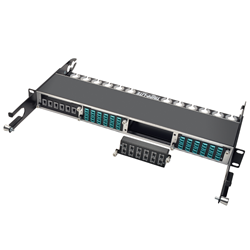 Our new copper and fiber solution allows different generations of equipment to interconnect easily
Chicago, IL (PRWEB) February 11, 2016
Tripp Lite, a world-leading manufacturer of power protection and connectivity solutions, has introduced a line of high-density copper/fiber cassette solutions that allow users to interconnect any combination of 10Gb, 40Gb and 100/120Gb network equipment in a simple, elegant and highly flexible way. This new line of cassettes and chassis expands Tripp Lite's solutions to support a wide range of applications and protocols in high-density telecom and data center environments.
The only solution currently on the market that offers cassettes for both copper and fiber cabling, it negates the need for costly, hard-to-manage custom breakout cables. With Tripp Lite's modular cassette solution, all cabling and components are standard, off-the-shelf and readily available. The easy-to-use cassettes insert into a 0U or 1U enclosure panel for an interconnected copper and fiber infrastructure, allowing a large number of connections to be made in a small space. When changes to network equipment occur, the design can be modified or upgraded simply by swapping out or adding cassettes to suit the user's needs.
Key Features:

Works with both copper and fiber installations
Interconnects any combination of 10Gb, 40Gb, and 100/120Gb network equipment
Interchangeable cassettes between 0U and 1U enclosure panels
Uniquely designed for both front- and rear-mounting capabilities with easy-access cable management
Supports single-mode and multi-mode applications
"This new solution provides a combination of ease of use and cost savings that's a game-changer," said David Posner, Tripp Lite Product Manager. "Our new copper and fiber solution allows different generations of equipment to interconnect easily, with the flexibility to grow with the networks of tomorrow."
For more information on the new cassette solutions, visit: Tripp Lite High-Density Copper/Fiber Solutions
About Tripp Lite
Outstanding product reliability and exceptional service have been Tripp Lite trademarks for over 90 years. Tripp Lite´s innovations include the world's first UPS system designed specifically for personal computers and the world's most trusted premium surge suppressor—the Isobar®—with more than 19 million in use. Tripp Lite maintains the highest level of ready-to-ship inventory in the industry with more than 3,000 different products, including UPS systems, rack systems and cooling solutions, PDUs, PowerAlert software for enterprise-level system management and control, surge suppressors, KVM switches, cables and connectivity products, inverters, power strips and notebook accessories. Headquartered in Chicago, Illinois, Tripp Lite maintains a global presence with fully staffed offices worldwide. Additional information, including a list of Tripp Lite's sales offices and authorized reseller partners, can be found by visiting Tripp Lite's website: http://www.tripplite.com.