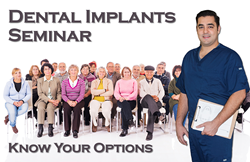 "I want all of my patients to be well informed and educated before they make a decision of what works best for them," shares Dr. Pourshirazi
Phoenix, AZ (PRWEB) February 10, 2016
Dr. E. Pourshirazi, a leading expert in innovative implant solutions in Phoenix AZ, is holding a series of educational seminars for new and existing patients, featuring the latest developments in dental science, specifically, in implantology. "Know Your Options When It Comes to Dental Implants" addresses the importance of understanding that each patient's situation is unique, and that there may be one or more solutions for replacing missing teeth. The seminar is scheduled for 6 p.m. on March 5, 2016 at his clinic located at 4530 E Ray Rd, Suite 170, Phoenix, AZ 85044.
"I want all of my patients to be well informed and educated before they make a decision of what works best for them," shares Dr. Pourshirazi with enthusiasm. "At Guaranteed Dental Solutions, we adhere to the highest standards in modern dentistry and want our patients to get nothing less than a perfect treatment and complete satisfaction. Having well informed patients is good for our practice, as it saves us valuable time from the point of initial consultation to the complete recovery."
"Know Your Options When It Comes To Dental Implants" covers the evolution of dental implants and implant products since 1980s, when the first commercial titanium screw implant became available on the market, and later, in 1985 the implanting technique was accepted and standardized in dentistry.
Participants will have an opportunity to learn about the variety of modern implant solutions and in which cases they're best suitable: Overdentures, a.k.a. snap on dentures, All-on-4 and All-on-6, how implants and implant structures are created in Dr. Pourshirazi's state of the art in-house dental lab, why he is becoming one of the world's leading implant professionals, what can be expected as far as recovery, and dental implants cost.
Dr. Pourshirazi's services include:

All-on-4 Procedure
Single or Multiple Dental Implants and Restoration
Crowns and Veneers
Bone Grafting (There are many different types of bone grafting, depending on procedure)
Frenectomy
Periodontal Disease Treatments
Restorative Dentistry
General Dentistry
There is no fee For Early Bird registration. All new and existing patients are encouraged to attend this seminar and bring a friend or anyone who may be interested in this topic. There will be a $10 charge for last minute drop-ins. Due to a limited number of seats available, preregistration is highly recommended. Call our office to reserve your seat.
About Dr. E. Pourshirazi and Guaranteed Dental Solutions:
Dr. Poursh (as patients like to call him) graduated from the University of The Pacific in Stockton, CA with a Bachelor's Degree in Biology. He continued his education at the prestigious University of the Pacific Arthur A. Dugoni School of Dentistry in San Francisco, CA, and earned his Doctorate of Dental Surgery. After dental school, Dr. Poursh completed his training at California Implant Institute with Dr. Louie Al-Faraje and received his fellowship from that institution. Since then, he has continued to advance his knowledge and is currently finishing his Master's Degree in Oral Implantology in Goethe University in Frankfurt, Germany. The focus of his research is developing unique and innovative ways for dental prosthetics to attach to dental implants more effectively than those currently available. Dr. Poursh has received the Patients Choice Award for 2015.
To learn more about the upcoming seminar, Dr. Pourshirazi's services, and Guaranteed Dental Solutions in Phoenix, AZ, please visit http://www.GuaranteedDentalSolutions.com
4530 E Ray Rd, Suite 170
Phoenix, AZ 85044
Tel: 480-725-5917
Email: gdsolutions2014@gmail.com