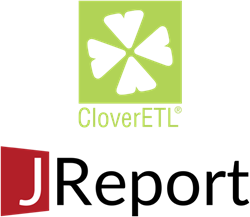 CloverETL has built a well-rounded suite of software solutions around data integration that will widen our users' ability to ingest data.
Rockville, MD (PRWEB) February 09, 2016
JReport, the leading solution for embedded BI and reporting tools, has partnered with CloverETL, a leading data integration and ETL software company. JReport is a high performance, scalable and flexible BI reporting solution that seamlessly embeds into any software application. Data can be mashed up from relational databases, big data, NoSQL, Hadoop, cloud and other specialized data sources. By integrating JReport with CloverETL, application providers leverage the shared expertise to strengthen their BI capabilities on an end-to-end data management solution. BI users can now use JReport to build ad hoc reports and dashboards on data from heterogeneous systems of various formats through CloverETL's exemplary data ingest and transformation capabilities.
JReport's sophisticated BI reporting coupled with CloverETL's data management also empower BI users to make better, agile business choices through ad hoc reporting, dashboards, data analytics and data visualization.
"Partnering with JReport makes it easier for both business analysts and data scientists to get better BI from their data," said Michal Tomcanyi, CTO of CloverETL. "JReport's corporate philosophy and technology stack are very much aligned with the way we have designed and implemented CloverETL."
"We view CloverETL as a strategic partner with complementary solutions that provide instant value for our customer base," said Dr. Dean Yao, Director of Marketing at Jinfonet Software. "CloverETL has built a well-rounded suite of software solutions around data integration that will widen our users' ability to ingest data."
JReport 13.1 is now generally available. To request a customized demo, please contact sales(at)jinfonet(dot)com or call (240) 477-1000. You can also view our JReport Product Demo to get a more detailed look at the JReport product suite.
CloverETL 4.1 is available for trial download at http://www.cloveretl.com. You may also call (703) 259-8585 or email sales(at)cloverETL(dot)com for a customized demonstration.
About CloverETL
CloverETL is a high value data integration platform that allows for intuitive and flexible design, while providing enterprise grade automation and monitoring of complex data tasks. CloverETL is optimized for performance and scale, to meet both large and small needs for developers and business users. Serving both the direct license and OEM businesses, CloverETL runs standalone or embedded supporting applications such as data warehouses, MDM, ESB, BI, and analytics.
About Jinfonet Software
JReport, developed by Jinfonet Software, is an embeddable Java-based BI solution for the enterprise. JReport empowers users to create reports, dashboards and data analysis on cloud, big data and transactional databases. Users now have access to their own BI and data visualization capabilities from within their applications. JReport has been deployed by hundreds of thousands of users at more than 10,000 installations worldwide.
More information on JReport and Jinfonet Software is available at http://www.jinfonet.com.