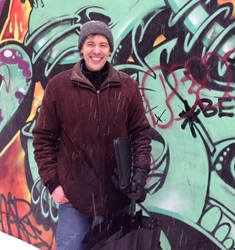 As crowdsourced matchmaking catches on, it will shift to being more competitive—where rewards will become greater and profiles more sophisticated in order to better stand out...
Philadelphia, PA (PRWEB) February 11, 2016
Roses are red, violets are blue, if you've got the cash, there are amateur matchmakers waiting to help you… or at least, that's what Ed Ryder, creator of the new EarnALoveBounty.com website hopes to achieve.
Today, Ryder officially unveiled his crowdsourced matchmaking concept, which involves:

"seekers" (those searching for love)
offering "love bounties" (cash rewards)
to "finders" (members of the public)
…in exchange for the right introduction.
On his website, Ryders asks: "Would you pay $5000—on a risk-free basis—to get yourself into a relationship that makes you completely happy? What about $2000? Or $500?"
The idea is for seekers to post their photos, video and written material, along with full details of their unique "love bounty propositions," which spell out how much of a reward is offered and what triggers payment of the reward.
"It's a 'rewards for results' approach. Maybe they will pay a reward if they go out on 2 dates with a referral… maybe they will pay the reward after they've been in a relationship with somebody's referral for 6 months," says Ryder. "I think there is going to be a lot of creativity with it."
Ryder is offering the service free of charge. He expects many will be drawn to the appeal of making money by matching people they know with his love-seeking advertisers. He aims to develop a list of 100,000 finders who are interested in being first-to-know when new reward opportunities hit the site.
"Once I get that base of people who want to do matchmaking work for potential extra dollars, it's going to attract the reward offers. It's going to be interesting."
In comparison to traditional matchmaking services, the money is paid out only if the outcome sought is achieved. Ryder considers the approach financially less risky, though the seeker may want to hire the services of an assistant to run their crowdsourced matchmaking campaign.
It's another way he sees crowdsourced matchmaking evolving. "As crowdsourced matchmaking catches on, it will shift to being more competitive—where rewards will become greater and profiles more sophisticated in order to better stand out and win consideration from the website's (future) legions of amateur matchmakers."
Ryder has first-hand experience with crowdsourced matchmaking. He offered a $25,000 reward for the right introduction 16 years ago. "It was a bit radical at the time. People were making fun of me. I got hate mail," says Ryder.
But Ryder feels times have changed and that people will be drawn to the site for entertainment, for the prospects of earning "love bounties," and for the purpose of promoting their own love quests.
"If I have 100,000 aspiring Cupids on my list, all interested in making match money, then EarnALoveBounty.com will quickly become seen as a compelling and viable platform for gutsy singles to take advantage of, especially since it's a free site."
Ryder envisions the birth of a new type of self-employment: "campaign managers" for individual crowdsourced matchmaking campaigns, hired by love seekers.
In this marketing-oriented role, these workers oversee creation of videos, photos and written content for their client's profile on EarnALoveBounty.com, and they act as the seeker's liaison with the finder community, screening communications from the public, vetting candidates that are referred as possible matches, advising the seeker on who they should meet, even arranging first meetings.
Ryder expects campaign managers will make crowdsourced matchmaking easier and less time-consuming for their clients.
For further information, visit: EarnALoveBounty.com