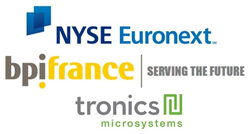 Inclusion in the index will bring increased visibility to the stock and involve more investors in our future growth
Grenoble, France and Dallas, TX, USA (PRWEB) February 09, 2016
Launched on 15 March 2010 by Euronext and Bpifrance, the NYSE Alternext Bpifrance Innovation stock index brings together Innovative Companies listed on NYSE Alternext, as designated by Bpifrance for inclusion in French FCPIs (Fonds Communs de Placement dans l'Innovation, or Innovation Mutual Funds).
This index allows investors to compare the securities listed on Alternext with listed companies that have been identified as innovative. Revised every year (on the last working day of January), the NYSE Alternext Bpifrance Innovation stock index now includes more than 70 companies.
Tronics has been certified as an Innovative Company by Bpifrance since 2014 under number A1410008 V. This certification allows a French FCPI to invest in the capital of the company, and for its subscribers, to enjoy the associated tax benefits.
"Tronics' entry into the NYSE Alternext Bpifrance Innovation index demonstrates the company's desire to make innovation central to its strategy. Inclusion in the index will also bring increased visibility to the stock and involve more investors in our future growth" said Pascal Langlois, CEO of Tronics.