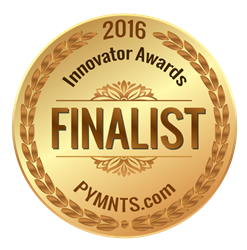 Bonita Springs, FL (PRWEB) February 09, 2016
CSI globalVCard announces that its Yoke Payments has been named among five finalists for the 2016 PYMNTS Innovator Awards in the Best POS Innovation category. Developed in partnership with Delicious Nutritious Markets (DNM), Yoke Payments is a mobile app that enables both self-checkout and inventory management through one payment system.
In selecting finalists for the Innovator Awards, PYMNTS.com describes the process as the most exhaustive vetting process in the industry. More than 600 entries were received this year – each subject to evaluation by a distinguished panel of judges who see and invest in innovation every day.
"We are so honored and excited to be recognized by the leading authority in payments," said Michael Johnson, co-founder of DNM and Yoke Payments. "This recognition further validates the need and opportunities to transform the self-checkout process across many industries including vending and micro markets, retail and self-service kiosks. We thank PYMNTS.com and the judges for this honor and congratulate all the finalists."
The PYMNTS community will now decide which finalist will win the grand prize. Public voting will continue through February 19, 5:00 PM ET and winners will be announced at the culmination of Innovation Project on March 17, 2016.
Cast your vote online for CSI globalVCard/Yoke Payments as the Best POS Innovation of 2016.
About CSI Enterprises
Founded in 1989, CSI Enterprises has provided innovative payment solutions to world leading brands, while providing the highest level of customer service. The company's highly secure financial payment products include the award-winning globalVCard® virtual payment solutions and mobile payment applications, corporate purchasing cards, and business fleet fueling/maintenance payment cards. Businesses rely on CSI's products to control spending, reduce costs and increase profits in all areas of B2B spending including accounts payable, business travel and fuel purchases. In 2015, CSI launched Kick Start to fund startup payment technologies like Yoke Payments. Learn more at http://www.csiglobalvcard.com.