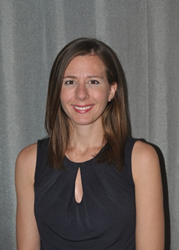 We are proud that Katie's leadership in applying new concepts to rail transit is being recognized in such a high profile way
NEW YORK (PRWEB) February 09, 2016
Katie Theis, AICP, LEED AP, a transportation planner in HNTB Corporation's rail transit practice, has been named to Railway Age's 2016 Fast Trackers 10 Under 40. The award will be presented in Chicago at the publication's annual railroader of the year dinner on March 15, 2016.
Inaugurated in 2016, the Railway Age award recognizes emerging leaders in the railroad industry. Entries were received from freight/passenger railroads, suppliers and consultants/contractors and were judged on criteria that included industry experience and education, leadership skills, industry contributions and community service involvement.
"We are proud that Katie's leadership in applying new concepts to rail transit is being recognized in such a high profile way," said Mike Sweeney, PE, HNTB's Northeast division president. "She helps design systems that enhance mobility and bring transformative changes in the relationship between rail transit systems and the communities they serve."
Theis, a registered landscape architect, joined HNTB in 2010, and is based in the firm's Empire State Building office in Manhattan. She is involved in the planning and design of mixed-use and transit-oriented developments, transit facilities, public spaces and greenways as well as providing regional and strategic planning, and sustainability guidance. Theis' experience includes many significant transportation projects such as the New NY Bridge and the Goethals Bridge replacement program as well as flood resiliency programs, transit station site design and planning studies in New York, Boston, Chicago and Philadelphia.
HNTB's history is built on more than 100 years of experience in the design and construction of many significant and iconic bridges in the nation. The firm delivers major transportation infrastructure projects such as program and construction management for transit systems, passenger and freight rail systems, tunnels, airports, and tolling systems and technology in the U.S.
About HNTB
HNTB Corporation is an employee-owned infrastructure solutions firm serving public and private owners and contractors. With more than a century of service, including more than 90 years in New York, HNTB understands the life cycle of infrastructure and addresses clients' most complex technical, financial and operational challenges. HNTB's New York offices currently employ more than 400 full-time professionals in nine tri-state locations. Professionals nationwide deliver a full range of infrastructure-related services, including award-winning planning, design, program management and construction management. For more information, visit http://www.hntb.com.