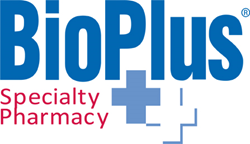 Altamonte Springs, FL (PRWEB) February 09, 2016
BioPlus Specialty Pharmacy (BioPlus), one of the nation's leading innovative specialty pharmacies, announces today the continuation of the 'Pay It Forward' program into 2016. BioPlus partners with several non-profit patient foundations by making donations for each prescription referral received at our specialty pharmacy.
"Since our Pay It Forward program began, we are proud to have donated nearly $136,000 ($135,949) to multiple patient foundations and we are thrilled to be continuing this program this year," shares Barbara Weller, Senior Vice President of Finance at BioPlus. "Looking specifically at 2015, we connected our patients in need with nearly $25 million ($24,919,914) in patient financial assistance in the form of grants, co-pays, and donations," adds Weller.
This financial assistance helps cover high co-pays and deductibles for patients in financial need who are facing complex diseases who might not be able to afford their important medications. To further support patients seeking financial assistance, BioPlus helps process foundation paperwork and stays on top of grant renewals to support patients in avoiding treatment interruptions. This Pay It Forward program links closely to BioPlus' 2-Hour Patient Acceptance Guarantee which ensures patients and their physicians a fast turn-around from patient referral to acceptance.
"These two programs are so important to us at BioPlus because we know that an ill patient is at the center of all our interactions, such as the patient who recently called to thank our specialty pharmacy for how quickly we got hepatitis C medications to her," explains Weller. "This patient shared how her doctor submitted a prescription to us on a Friday and was notified that day that we could accept her prescription. By Tuesday she had medication in hand and just 13 days later her lab work showed a dramatic drop in her infection and she was eventually cured. That's the true value of the programs we offer at BioPlus."
About BioPlus Specialty Pharmacy
BioPlus Specialty Pharmacy is the first specialty pharmacy to introduce a two-hour turnaround from referral to patient acceptance. BioPlus... Where healing begins in 2 hours. Our company celebrates 26 years of innovative excellence in specialty pharmacy, working closely with payers and the pharmaceutical industry, as well as with prescribers to get prompt treatment for patients, and directly supporting our patients nationwide to achieve optimal health outcomes. Our proprietary web tool Tap App, connects prescribers to the pharmacy by bringing the pharmacy chart into the doctor's office with real-time specialty pharmacy information and treatment monitoring.
BioPlus provides a complete range of specialty services, including for hepatitis C, multiple sclerosis, cancer, bleeding disorders, and other complex, chronic conditions. BioPlus, a privately-held, pharmacist-owned company based in Altamonte Springs, Florida, is accredited by URAC, VIPPS, and the Accreditation Commission for Health Care (ACHC).
For information: http://www.bioplusrx.com or
Contact: info(at)bioplusrx.com
Phone: 1-888-292-0744
###