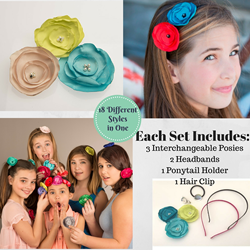 "My daughter LOVES that she can make her own headband match her outfit! Quality is Great and unlike any headbands out there!"
Ipswich, MA (PRWEB) February 18, 2016
Many people agree, there's something very special about having the right hair accessories that can take a woman or girl's look to the next level. The problem is there's a serious lack of quality hair accessories and headbands on the market. Most are poorly made and don't last very long. Pop-On Posy, is a new woman's owned brand that takes the problem head on. Pop-On Posy offers a line of stylish magnetic hair accessories, with pop on pop off floral fabric creations. They are well made, comfortable and, according to reviewers "look absolutely fantastic". Pop-On Posy recently announced the line is now available on Amazon.com, to a quick enthusiastic response.
"I was so frustrated by cheap, mass-produced hair accessories, that I set out to create a product for myself and my two daughters," commented Jody Davis, head designer and fabric artist at Pop-On Posy. "Our Pop-On Posy hair accessories are beautiful and customizable, and allow the women and girls who wear them to express their distinct personalities in fun and fashionable ways."
"Pop-on Posies" are available in wide range of colors and styles and are sold individually and in sets. Nearly the entire line is manufactured in the USA.
Feedback from customers has been very passionate.
Michelle E., from Boston, recently said, "My daughter and I both love 'Pop-On Posy'. We wear the hair accessories all the time and have collected almost all of them Five stars."
For more information, contact Jody Davis of Pop-On Posy at 978-500-3780 or email Jody at davisjody(at)comcast(dot)net for a detailed brochure and logo/brand material. Be sure to visit http://www.poponposy.com or look for them on Amazon!
###