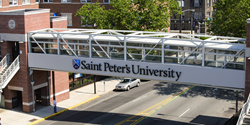 "We are very grateful to receive this gift from an organization like the Give Something Back Foundation as our missions align in many ways."
Jersey City, N.J. (PRWEB) February 12, 2016
Saint Peter's University today announced that the University has been awarded a $1 million gift for scholarships from the Give Something Back Foundation (GSBF). The gift will enable 50 eligible New Jersey high school students to attend Saint Peter's at no cost for tuition, fees, room and board. Robert Carr, founder of GSBF, presented the award to Eugene J. Cornacchia, Ph.D., president of Saint Peter's University, at a ceremony today in which Steven M. Fulop H '14, mayor of Jersey City, was also present.
"We are very grateful to receive this gift from an organization like the Give Something Back Foundation as our missions align in many ways," said Dr. Cornacchia. "There are many dedicated and deserving students throughout the state who will achieve tremendous success through the help of this foundation and we look forward to the opportunity of welcoming these students to our campus in the coming years."
GSBF was established through the generosity of Carr, founder, chairman and CEO of Princeton-based Heartland Payment Systems (NYSE: HPY). Carr received a $250 scholarship grant from the Lockport Woman's Club in Illinois when he was accepted as a student at the University of Illinois. The money motivated Carr to reach higher goals and inspired him to want to give back to the club when he was able. He presented the Lockport Woman's Club with a check for $100,000 on the organization's 100th anniversary 40 years later. He continued to fund scholars through the organization for five years until he founded the Give Something Back Foundation. GSBF provides mentors and scholarships that help Pell Grant-eligible students go to college and graduate in four years debt free. In 2015 GSBF expanded into New Jersey and Saint Peter's is the fourth institution in the state to partner with the foundation.
"Today there are economic and social barriers that consistently conspire against a student's chance of getting to college and obtaining a degree," said Carr. "At the Give Something Back Foundation, our goal is to remove these barriers by preparing students for success in college — while still in high school — and helping them graduate in four years without any debt. We are pleased to partner with Saint Peter's as it is ranked fifth in the nation by MONEY® Magazine for 'Colleges That Add the Most Value.' We are confident the University will provide GSBF scholars with an excellent college education and a caring community that will support them long after graduation."
GSBF holds informational sessions in New Jersey in order to identify eligible high school ninth graders as scholarship recipients. The selected students are provided with mentors who advise and help prepare the students to succeed in college. The first group of students will begin at Saint Peter's in the fall of 2019.
For more information about GSBF, visit http://www.givesomethingbackfoundation.org or email njinfo(at)givesomethingbackfoundation.org.
# # end # #
The Give Something Back Foundation (GSBF) works with high school administrators and community leaders to select ninth graders who show academic promise and whose family income level qualifies them to receive a Federal Pell Grant.
The goal of GSBF is to help students who may not have considered college an achievable option to get the guidance they need to complete a college degree in four years, debt free.
GSBF pairs selected students with trained adult mentors who support the students through the challenges of high school years at home and in the classroom, thus preparing them for the rigors of a four-year college education. Mentors help students navigate the process of college admissions and GSBF provides its high school graduates with a scholarship for tuition, room and board at one of its partner universities and colleges. Visit GSBF at: Facebook, Twitter and LinkedIn.
Bob Carr is the author of "Through the Fires: An American Business Story of Turbulence, Triumph and Giving Back" (Amazon, 2014), and is currently working on a second book about helping young working-class people attend college without going into debt.
Carr built Heartland from a modest start-up with 25 employees in 1997 into a Fortune 1000 company that today employs more than 4,600. Heartland's clients range from major retail chains to restaurants to mom-and-pop stores and websites to colleges and school districts in some of America's largest cities.
In an age of increasing cyber assaults, Carr has led Heartland to become a gold standard in security strategy. After a remarkable recovery from the 2008 international hacking conspiracy, Heartland emerged as a champion in the fight against cybercrime.
On Dec. 15, 2015, Global Payments Inc., an Atlanta-based worldwide provider of payment technology services, announced it has entered into a definitive agreement to acquire Heartland for $4.3 billion, and Robert Carr announced he would devote his time to work directly with the Give Something Back Foundation, which was started in 2003 and incorporated in 2006. Visit Bob Carr at: Facebook, Twitter, LinkedIn.
Saint Peter's University, inspired by its Jesuit, Catholic identity, commitment to individual attention and grounding in the liberal arts, educates a diverse community of learners in undergraduate, graduate, doctoral and professional programs to excel intellectually, lead ethically, serve compassionately and promote justice in our ever-changing urban and global environment. To learn more, please visit http://www.saintpeters.edu.