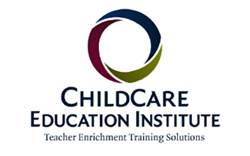 Training for early childhood family-based providers is critical for the growth and development of young children in their care.
Duluth, GA (PRWEB) February 10, 2016
ChildCare Education Institute (CCEI), a nationally accredited distance training institution dedicated to the child care industry is proud to announce a new partnership with the Connecticut Office of Early Childhood.
Effective immediately, CCEI will provide early childhood training in English and Spanish to fulfill responsibilities of the Connecticut Office of Early Childhood (OEC) to provide professional development opportunities to all early childhood family-based providers serving families and children receiving subsidies under the OEC's Care4Kids program. CCEI will provide a range of online CEU-based professional development opportunities for early childhood family-based providers in Connecticut, through annual unlimited online professional development subscriptions to its catalog of professional development courses. Successful completions will be automatically uploaded into user accounts in the Connecticut Early Childhood Professional Registry.
CCEI has online training courses in a wide variety of topics including the pre-service areas required in the federal CCDBG requirements: Infectious Disease Control, SIDS, Medication Administration, Food Allergies, Building and Physical Premises Safety, Shaken Baby Syndrome, Disaster Preparedness, Handling and Storage of Hazardous Materials, Transportation Safety and Mandatory Reporting.
"Training for early childhood family-based providers is critical for the growth and development of young children in their care," said Maria C. Taylor, President and CEO of CCEI. "This agreement with the Connecticut OEC offers professional development opportunities to a wider audience of family-based providers in the state of Connecticut, which in turn benefits the education and support of their young children."
The Connecticut Office of Early Childhood is the state's leader in providing a comprehensive, collaborative system for delivering improved programs and services to children from birth to five years old and their families. The OEC oversees a coordinated system of early childhood care, education and support, and aims to ensure all young children in Connecticut are safe, healthy, learning, and thriving.
About CCEI
ChildCare Education Institute® provides high-quality, distance education certificates and child care training programs in an array of child care settings, including preschool centers, family child care, prekindergarten classrooms, nanny care, online daycare training and more. Over 100 English and Spanish child care training courses are available online to meet licensing, recognition program, and Head Start Requirements. CCEI also has online certification programs that provide the coursework requirement for national credentials including the CDA, Director and Early Childhood Credentials. Several certification programs have been evaluated and awarded college credit recommendations by the National College Credit Recommendation Service (National CCRS). CCEI is nationally accredited by the Distance Education Accrediting Commission (DEAC), has been accredited as an Authorized Provider by the International Association for Continuing Education and Training (IACET), and is authorized under the Nonpublic Postsecondary Educational Institutions Act of 1990, license number 837.
About the Connecticut Office of Early Childhood
The Connecticut Office of Early Childhood (OEC) was established in 2013 to coordinate and improve the various early childhood programs and components in the state to create a cohesive high-quality early childhood system. The Office of Early Childhood provides funding, standards, regulations, training and oversight to ensure that early care and education program for young children are safe, healthy and nurturing; effectively support children's physical, emotional and cognitive development; and are accessible to all children, particularly those facing barriers, risks or challenges to their healthy development and success. In addition, they provide home visiting services, funding and training to support families raising young children to ensure the children's health, well-being and positive growth and development and to prevent child abuse or neglect.