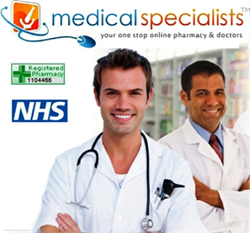 The lucky ones may be fortunate to be lavished with chocolate, flowers, or other affectionate tokens of love. However, there are those that could have the misfortune to receive more than they bargained for this Valentine's Day...
Bury, Lancashire (PRWEB UK) 11 February 2016
Love and romance are in the air over the next few days in the run up to Valentine's Day, as cupid prepares to fire his arrows in the direction of new and existing couples around the country.
The lucky ones may be fortunate to be lavished with chocolate, flowers, or other affectionate tokens of love. However, there are those that could have the misfortune to receive more than they bargained for this Valentine's Day…more specifically a sexually transmitted infection (STI) from failing to practice safe sex by not using a condom.
Upholding good sexual health is imperative to everyone. In addition to the use of condoms to prevent an STI and unwanted pregnancies, it also means being able to form healthy relationships and the ability to make informed choices about if, when and with whom to have sexual activity.
Good sexual health practices

Anyone being able to simply say "no" to sex if that person doesn't feel ready for it.
Avoiding engaging in unprotected sex with a new partner. Through the use of condoms or other form of contraception each time having sex can dramatically decrease the risk of contracting or transmitting STIs, as well as an unintended pregnancy.
Deciding upon an appropriate long-term contraceptive solution that is right for you.
Feeling comfortable about your own sexual orientation, whether heterosexual, gay, lesbian or bisexual.
People taking responsibility for their own sexual health by attending regular check-ups – after all they are free and confidential.
Understanding it is everybody's prerogative to not be sexual at any given time.
For a lot of people, Valentine's Day will involve the meticulous planning of romantic gifts and gestures for their partner. For the singletons around the country though, it is usually seen as another opportunity to party with friends and probably consume a bit too much alcohol in the process, which can inevitably lead to an impaired ability to make sensible decisions – especially when it comes to sex. The fact remains that it is often the unplanned sexual encounters that can result in the most damaging and lasting effect.
Worrying, a large proportion of people that test positive for STIs such as chlamydia, gonorrhoea and genital herpes may not even display any visible symptoms at all.
Symptoms from these 'silent infections' sometimes don't arise until after several weeks or months, or can temporarily disappear, but unprotected sex can still result in the virus being transmitted to another person.
Unfortunately, the viruses from STIs such as HIV, genital warts and genital herpes, will always remain in the body once there, but there are some treatments available that can reduce or shorten the outbreak of outward symptoms and slow the growth of the virus. The widely used Valtrex (Valaciclovir) for genital herpes is just one example, slowing the growth and spread of the herpes virus so that the body can fight off the infection.
STIs left untreated could become extremely painful or uncomfortable for the sufferer, even potentially causing serious long-term problems such as infertility.
STI symptoms to be aware of

Bleeding between periods.
Bleeding following sex.
Blisters, sores, spots or lumps around the genitals or anus.
Discharge from the penis.
Lower abdominal pain in women.
Pain and/or bleeding during sexual intercourse.
Pain in the testicles.
Pain when passing urine.
Vaginal discharge – this may be yellow or green in colour.
Medical Specialists® Pharmacy can provide treatments for the common STIs like chlamydia, gonorrhoea and genital herpes.
In addition, Medical Specialists® can provide near 100% accurate pregnancy tests, a wide variety of condoms to suit different preferences, emergency hormonal contraception (morning after pill), other contraceptive pills, and the Clamelle chlamydia test to be taken at home and posted off for a quick analysis and result, avoiding the time and embarrassment of having to personally attend a clinic for a check-up.
Over 95% of people with the most commonly diagnosed STI (chlamydia) can be cured providing they take antibiotics correctly. Often, one of either two antibiotics are prescribed for the treatment of chlamydia, these being a single dose of the azithromycin or doxycycline, to be taken for one week.
To obtain any prescription or antibiotic or contraceptive treatment, all patients must first undergo an online consultation with one of the GMC-registered doctors at Medical Specialists®, or send in a private prescription by post, obtained from the patient's own doctor.