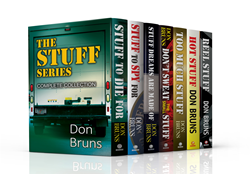 Action, leavened with plenty of laid-back dialogue, picks up steam and concludes on a cool cliffhanger
Longboat Key, FL (PRWEB) February 09, 2016
The Stories:
For those who love humor as well as fast-paced mysteries, the "Stuff" series seven book collection has it all. Combining the stumbling shenanigans of James Lessor and Skip More, two twenty-something ne'er-do-wells trying to succeed as crime solvers produces laugh-out-loud moments while delivering a great mystery. For any fans of "the Hardy Boys" these books are a must read to witness them "all grown up".
The Stuff Series Collection includes Stuff to Die For / Stuff To Spy For / Too Much Stuff / Hot Stuff / Reel Stuff / Stuff Dreams Are Made Of / Don't Sweat The Small Stuff
Reviews:
"This is the stuff of side-aching laughs: Hiaasen meets grown-up Spy Kids. Bruns has proven he's definitely got Florida down ... for the count."
-- Tim Dorsey, New York Times best-selling author of Coconut Cowboy
"Roommates Skip Moore and James Lessor of More or Less Investigations receive PI licenses from the Florida Department of Agriculture ("Don't ask why.... This is Florida. They just do things a little differently here") in Bruns's diverting if predictable fourth mystery to feature the bumbling sleuths (after 2009's Stuff to Spy For). When Moe Bradley, owner of the Moe Show carnival, hires James to be his new marketing director, he also asks them to find out who's been sabotaging the rides. A faulty safety bar on one ride has resulted in a 32-year-old woman being thrown to her death. After Kevin Cross, who knows too much about the carny for his own good, turns up shot to death in his trailer, the action, leavened with plenty of laid-back dialogue, picks up steam and concludes on a cool cliffhanger. Skip's girlfriend, Emily, and their PI pal, Jody Stacy, who supplies the pair with spy toys, add to the fun."
—Publishers Weekly
"Clues, laughs, and shenanigans abound. The Stuff novels aren't quite comedy-mysteries, but they're about as close as you can get, effectively mixing serious crime with plenty of humor."
—Booklist
"The least well-qualified pair of PIs I can recall meeting and, as a measure of their success, driving a used box truck in need of repair says it all."
—San Francisco / Sacramento Book Review
"I really enjoyed the chemistry between Bruns' main characters. Although sometimes awkward in their efforts, their hilarious attempts at being serious detectives carry the story forward."
—Suspense Magazine
"The patter is snappy, the action is fast, and the characters are so believable that a reader would recognize Skip and James if he or she met them on the street, at an evangelist's tent, or at a carnival. How a book can be so madcap and yet so believable is part of Bruns' art."
—Fresh Fiction
"An amusing mystery about two bungling detectives who crack enough one-liners to star in their own sitcom."
—Mystery Scene Magazine
"Bruns maintains a narrative tone that would have done Huck Finn proud in these combination Andy Hardy adventure and hard-boiled thrillers."
—Booklist
"If you're looking for fast paced, fun and light-hearted adventures involving a couple of memorable characters who seem to find trouble no matter where they go, then the Stuff series is a perfect fit."
—The Big Thrill
"This award winning author develops characters who rival Elmore Leonard's seedy crew from 'Get Shorty' or could appear in a Coen Brothers movie where only the dim-witted survive."
—Crime & Suspense
" Bruns has a wonderful knack for humor in his storytelling that adds to the fun without distracting from the mystery. Memorable characters and great plotting round out the trifecta here for a great read."
--CrimeSpree Magazine
"I'm not sure what the male version of 'chick lit' is called, but I think this book is it."
—New Mystery Reader
"A sure bet to appeal to fans of Carl Hiaasen, Tim Dorsey, or James O. Born."
—BookPage
"Will remind the reader of Tim Dorsey's cast of whacked-out characters but with the narrative voice and feel of Mark Twain's Huck Finn."
—Booklist (Starred review)
"We just love Floridian crime tales, and Don Bruns, is a perfect example of why. Witty, gritty and filled with brilliantly realized characters, the books are a pure delight."
–-Jeffrey Deaver, New York Times best-selling author of The Sleeping Doll
"Bruns writes with a style that immediately makes you a part of all the action—it's like hearing a tale from a friend that's filled with mystery, suspense, twists, turns, and everything else that makes for a great read. Don't miss it--a true delight!"
--Heather Graham, New York Times best-selling author of The UnseenBlurbs
"A terrific brew of romp, mystery, and death, with character insights laden throughout."
--Gayle Lynds, New York Times best-selling author of The Assassins
About the Author:
Don Bruns is a singer and songwriter, a painter, a cook, a traveler, and stand-up-comic who has not decided what to do when he grows up. He is also the author of two mystery series. His "Stuff series" showcases the unstoppable yet bumbling young private investigators, Skip Moore and James Lessor, and his "music series" features rock and roll writer Mick Sever. Don and his wife, Linda, live in South Florida.
You can find him at donbrunsbooks.com