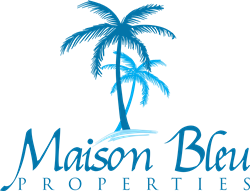 The world's purchase decisions now start and end on the web, social media and, most of all, with mobile devices.
MIRAMAR BEACH, FL (PRWEB) February 10, 2016
Maison Bleu Properties, a real estate brokerage with expertise in data-driven, digital marketing announces the availability of their full-service realty to buyers and sellers of homes and land on Florida's Emerald Coast.
Founded by serial entrepreneurs and local residents Jason and Rebekah Polancich along with partner and broker Shaina Hershey-Sly, the brokerage represents a new level of real estate marketing in the area that gives buyers and sellers the highest level of satisfaction in their transactions.
"The world's purchase decisions now start and end on the web, social media and, most of all, with mobile devices. We've been very successful in other market sectors selling commodity goods and services by using automated data analysis techniques that allow us to put highly-targeted marketing of our brand and products in front of the right customers at the right moments," said Jason Polancich, Vice President, Maison Bleu. "It's a specialized technique but one that is commonly used among big, successful consumer brands that trade in products like shoes or cars or beauty products. Rarely is it done to a consistently high level in real estate - especially not by small local or regional firms. As a result, buyers and sellers have to put up with a lot of noise and find a great deal of patience."
Unlike other small brokerages in the area, Maison Bleu employs data scientists, software engineers and full-time marketing resources with a proven track record of success building such processes for other consumer products and services. According to Maison Bleu Lead Agent, Rebekah Polancich, that translates directly to better service for their clients. "Buyers and sellers benefit from a strong digital brand that can target customers most likely to be interested in a given listing," she said. "The faster you find something you like, the faster you close."
The Maison Bleu approach is not just about sophisticated software techniques and data, however. The company's founders are also family-oriented and focused on creating a small, comfortable feel for the firm centered on highly-personal service. They're also local.
"As long-time residents, we love the casual, healthy and happy Emerald Coast lifestyle with our families," said Shaina Hershey-Sly, Broker, Maison Bleu. "We give those looking to buy or sell in the area a faster, simpler and more effective way of doing things, but we are also a reflection of what we love most about the area - warm, friendly, personal and willing to help in any way we can," she said. "It's even reflected in our company motto: 'Buy here. Be happy.'"
Maison Bleu is currently building out a highly-selective, differentiated team of sales and broker associates who are tech-savvy and customer service-oriented. "We want to hire those agents with the experience, energy, enthusiasm, and technology expertise to fit into our targeted processes," said Hershey-Sly. "Agents that value not only traditional client relationships, but also the ability to work hard and use the data and tools we give them to make their sales predictable and efficient."
The firm's future plans include expansion into the luxury Emerald Coast real estate market by using the same proven, digital marketing techniques designed to attract high net-worth clientele and real estate investment to the area.
About Maison Bleu Properties
Founded in 2015, Maison Bleu Properties is a local, well-funded and digital marketing-focused real estate firm selling homes and land on Florida's Emerald Coast in areas that include: South Walton, 30A, Destin, Santa Rosa Beach, Rosemary and Inlet Beaches. Maison Bleu offers buyers and sellers the most value in their real estate transactions with a complete digital brand that leverages the undeniable power of the global marketplace along with highly-local experience. Maison Bleu redefines what a small firm can do for you. To learn more, visit http://www.mymaisonbleu.com or info@mymaisonbleu.com. If you're an agent, work here, be happy! Learn more at: http://www.mymaisonbleu.com/blog/real-estate-agents-join-us-were-changing-the-game-on-the-emerald-coast/