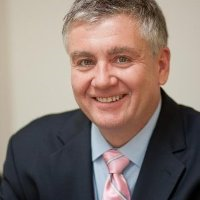 Joe's experience in helping organizations scale effectively will be critical as we expand Year Up Philadelphia's impact.
Philadelphia, PA (PRWEB) February 10, 2016
Continuing to scale its innovative and effective approach to job training, Year Up Philadelphia is celebrating the graduation of its fourth student class and its new Executive Director, Joseph Coyle.
Prior to Year Up, Coyle was responsible for leading and growing entrepreneurial firms. He spent the majority of his career with Electronic Data Systems (EDS), and travelled extensively throughout the Americas, Europe and Pacific Rim working closely with EDS' largest global clients.
"Joe's experience in helping organizations scale effectively will be critical as we expand Year Up Philadelphia's impact," said Garrett Moran, President of Year Up. "He is committed to closing the Opportunity Divide for Philadelphia's young adults and ensuring local employers have access to skilled, motivated talent."
Year Up Philadelphia launched in 2013 at Pierce College and has served more than 180 young adults to date, with its fourth class graduating on January 12, 2016. At the graduation ceremony, Year Up Philadelphia honored University of Pennsylvania with the Urban Empowerment Award for its leadership as a corporate partner providing professional mentoring and job training to urban young adults.
"In working with corporate partners like University of Pennsylvania and Pfizer, Year Up Philadelphia has already changed the lives of hundreds of young adults, and I'm excited to join the team in helping even more young people reach their full potential through professional careers and higher education," said Coyle.
Coyle currently serves on the Entertainment committee of The Union League of Philadelphia, and chairs the Main Line Wine Gala. He formerly served as Board Chair for The Children's Home of Easton and Board Member for the March of Dimes. Coyle earned an M.B.A. from Saint Joseph's University in Philadelphia.
Launched in Boston in 2000, Year Up currently has sites in 16 cities. The program provides low-income young adults, ages 18-24, with six months of technical and professional skills training followed by a six-month corporate internship. Eighty-five percent of graduates are employed or attending college fulltime within four months of completing the program, with average starting salaries of $36,000/year.
About Year Up Inc.
Year Up's mission is to close the Opportunity Divide by providing urban young adults with the skills, experience, and support that will empower them to reach their potential through professional careers and higher education. Year Up achieves this mission through a high support, high expectation model that combines marketable job skills, stipends, internships and college credits. Its holistic approach focuses on students' professional and personal development to place these young adults on a viable path to economic self-sufficiency. Year Up currently serves more than 3,000 students a year at sites in Arizona, Atlanta, Baltimore, Boston, Chicago, Jacksonville, the National Capital Region, New York City, Philadelphia, Providence, Puget Sound, San Francisco Bay Area, and South Florida. To learn more, visit http://www.yearup.org or http://www.youtube.com/yearupinc.