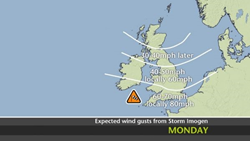 Poole, Dorset (PRWEB UK) 9 February 2016
Quadrant2Design have never failed to build a stand on time, and despite the torrential storm that hit the UK yesterday, and the extreme circumstances surrounding Southern Manufacturing 2016 – this is still the case.
Storm Imogen saw winds of 70 miles an hour hitting the South Coast of England, and has caused power outages, and flooding across the UK.
The morning of Monday 8th February was designated to be the build-up for Southern Manufacturing in Farnborough, the UK's largest regional manufacturing technology, electronics, and subcontracting exhibition.
The show takes place in an outside temporary structure, which due to the high winds was not safe for building in throughout the day on the 8th February. Instead the build's start was delayed until 8pm, with the show opening at 9.30am on Tuesday morning.
With two stands to build at the show, Quadrant2Design had to think fast, and put a new plan into place so that the team could ensure, that despite busy working days, tight schedules, and more builds around the country on the following day, that Southern Manufacturing would have Prestige Exhibition Stands at the show.
At 5pm, as Quadrant2Design's installer made his way up to the venue, the build time was pushed back again until 10pm, due to the strong winds and dangerous weather.
Contingency plans and extra installers had to once again be planned, with a second team ready to take over from the first team at 3am, should the build be delayed again. However, despite all of the delays, horrendous weather, torrential downpours, and danger of the venue's roof being removed by the storm, Quadrant2Design made it to the venue, with the stands built and handed over to some very happy clients, before the second team even had a chance to wake up.
Quadrant2Design guarantee that every stand will always be built on time, ready for a show to open, no matter the circumstances and are thankful to their great team for rallying together to ensure that this did, and always will, happen.
Southern Manufacturing opened its doors as normal at 9.30am this morning, and the show is going extremely well so far and is set to be a huge success over the next two days as well!
For more information regarding Southern Manufacturing, visit http://www.industrysouth.co.uk.
For a complimentary design consultation from Quadrant2Design, contact designteam(at)quadrant2design.com.
About Quadrant2Design
Quadrant2Design is the UK's only supplier of the Prestige Exhibition and Retail System. Portable, Modular and easy to self-build, the Prestige Exhibition and Retail System requires no tools or special skills. Catering for all sizes of exhibition stands, the Prestige Exhibition and Retail System, provides seamless effect, high-quality graphics that have a custom feel, whilst being reusable and cost effective. With an array of possibilities, including lit showcases, mounted LCD TV's and high-level branding, Quadrant2Design can create the perfect exhibition stand for any budget.