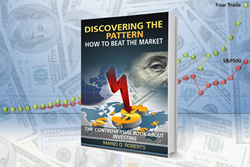 You will find in this book clear strategies that you can pick and add to your portfolio
San Diego, CA (PRWEB) February 11, 2016
In his highly debated book centered on investment, M.G. Roberts challenges the traditional principles of "buy and hold" by adopting a different concept. He unlocks the patterns and trends to be adopted to surpass the S&P 500 by 100%. With an easy-to-use, step-by-step instructions backed up by extensive research and data, on when to buy, when to sell and how to outperform the market, this is a must read for any stock trader.
"Discovering the Pattern" explains in full detail how to:

Incorporate the power of compounding. Forget about the traditional rule of buy and hold strategy that lacks the power of compounding. Learn about a simple method on how to get the best of compounding and enhance your portfolio.
Protect yourself from market corrections! Market correction is a common occurrence that happens without warning and could lead to loss of portfolio by up to 50%. Learn how to effectively manage the impact of market corrections without suffering the impact. Alternatively, learn how to proactively benefit from upward swings using the methods described in this book.
Takes away the fear in trading. This book also helps you to get rid of the effect of emotions when trading. It liberates you from the disastrous effect of greed and fear that marks the activity of even the best traders.
"After the stock market crash of 2008, I saw many retired people having to go back to work because they had lost 40 - 60% of their retirement nest egg in a matter of months. I felt so bad for these people so I wanted to write a book to not only show people ways to protect themselves from such huge market corrections but to actually take advantage of those corrections as well." Roberts said. "You will find in this book clear strategies that you can pick and add to your portfolio along with a strategy that will improve and beat the S&P 500 by 100%."
100% Back Tested
33 Amazing Strategies
75.4% Probability of Success
25.95% Average Yearly Gains
"Discovering the Pattern" is a simple, easy to read and more direct than most investing books, plus it contains all the necessary research with back tested results. This must read shows exactly the ETFs to invest in, the risk vs. reward, and the times to buy in and sell out. A new edition will be coming out every year with updated data and results.
Title: Discovering The Pattern
By: Mario G. Roberts
E-Book ISBN: 978-1-62676-950-2
Print ISBN: 978-1-62676-952-6
Available in softcover and e-book
Amazon.com as an e-book http://www.amazon.com/gp/product/B01A4QVZW6,
Lulu.com as a print copy http://www.lulu.com/shop/mario-g-roberts/discovering-the-pattern-2016/paperback/product-22529253.html
About the author
Mario G. Roberts earned his bachelor's degree in Engineering from Leeds University, England in 1996. His passion for investing first started when he worked for Russell Mellon Caps back in 2002. Over the last 14 years, he has been an investment analyst and a trader committed to research and development of strategies that have been found resourceful and successful.