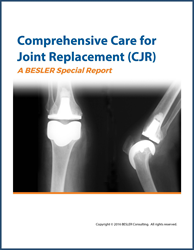 "We think it's very important that hospital financial stakeholders become familiar with CJR even if their hospital isn't currently a participant," Jonathan Besler, President & CEO of BESLER Consulting
Princeton, New Jersey (PRWEB) February 10, 2016
Today, BESLER Consulting announced the publication the Comprehensive Care for Joint Replacement (CJR) Special Report.
In November, 2015, CMS introduced the Comprehensive Care for Joint Replacement (CJR) bundled payment program. This mandatory initiative starts on April 1, 2016 for over 800 hospitals in 67 MSA's.
This special report discusses how CJR works, explains the responsibilities of anchor hospitals, reviews items such as affiliation agreements, Net Payment Reconciliation Amount (NPRA), and the appeals process.
"We think it's very important that hospital financial stakeholders become familiar with CJR even if their hospital isn't currently a participant," said Jonathan Besler, President & CEO of BESLER Consulting. "We hope this special report helps hospitals to prepare for CJR and an eventual expansion of mandatory bundled payments by CMS."
For a copy of this free report visit the BESLER Consulting website at besler.com/cjr
About BESLER Consulting
For over 25 years, BESLER has helped hospitals enhance and protect their Medicare revenue. BESLER's deep domain experience in revenue cycle, reimbursement, compliance and software development has resulted in more than $2 billion of additional revenue for our clients. For more information, visit http://www.besler.com.