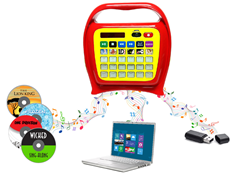 Juke24™ is one-of-a-kind portable media player/ entertainment center so versatile that every parent, kid, school and kindergarten will want one."
New York/New Jersey (PRWEB) February 10, 2016
Today, HamiltonBuhl (http://www.HamiltonBuhl.com) introduced Juke24™, the new portable, digital jukebox / media player that can be uploaded with up to 48 hours of content to listen to, at the touch of a button.
Load or record any music or audio from CD, computer, tablet, smartphone or USB flash drive. The included microphone for the karaoke feature lets kids sing along and record their performances. Even read and record their favorite books. Once uploaded, kids can listen to the content any time and as often as they like.
For the wannabe rockstars, load up Katy Perry, Pharrell, Imagine Dragons and others. Channeling Elsa? Load up the entire "Frozen" soundtrack. Feeling "Wicked"? Just push the button to listen.
Then, engage kids to create button artwork, from cartoon characters to superheroes or any doodles they want. With 24 customizable buttons and a whopping 48 hours of play time, kids can easily control their own listening experience with this media player.
"Once again, HamiltonBuhl has delivered an industry first with Juke24™. This one-of-a-kind portable media player and entertainment center is so versatile that every parent, kid, school and kindergarten will want one," said Shelly Goldstein, President of HamiltonBuhl.
"Early learners need repetition, and constantly ask to hear a song, a book or a soundtrack again and again. Juke24™ makes it easy to foster learning through repetition. Beyond that, it safely puts kids in control of their favorites for hours and hours," continued Shelly.
Built tough to withstand the rigors of daily use, Juke24™ comes in two color options, with 4GB of built-in memory, a back-loading CD player, karaoke function with talk-over microphone, built-in speakers, and customizable buttons with translucent covers.
Meet Juke24™ at HamiltonBuhl's NY Toy Fair booth #5974.
About HamiltonBuhl:
HamiltonBuhl (http://www.HamiltonBuhl.com) is the most recognized brand in AV equipment and electronics for education. From its humble beginnings in 1933 as Hamilton Electronics, to the 2011 merger with Buhl Industries, HamiltonBuhl has grown as an innovator delivering quality, durability and reliability. Always at the forefront, keeping a finger on the pulse of latest innovations, HamiltonBuhl products help facilitate and accelerate the learning process for students of all ages.