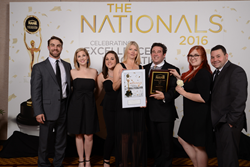 We are honored to be recognized by the National Sales and Marketing Council,
ATLANTA (PRWEB) February 10, 2016
mRELEVANCE, LLC is excited to announce it recently won a silver award at The Nationals new home sales and marketing awards competition. The Nationals, presented by the National Association of Home Builders (NAHB) National Sales and Marketing Council (NSMC), honors the best in new homes sales and marketing. mRELEVANCE was recognized for its development of client FrontDoor Communities' new website.
"We are honored to be recognized by the National Sales and Marketing Council," said Mitch Levinson, mRELEVANCE managing partner. "These awards are very competitive, and each entry showcases the best of the best. We love what we do, and taking home a silver shows that this site is as beautiful as it is effective."
With the creation of a new website, mRELEVANCE refreshed the look and feel of FrontDoor Communities' online presence. Its innovative design features a large header with photos; includes a backend admin that allows for information to be easily managed and updated by the builder; and is easy to navigate.
The finger-friendly site can be browsed from a desktop, tablet or smartphone and has a prominent contact form to capture leads. It pulls all of the builder's communities into one website, even when a different and separate design and brand for specific communities is necessary.
Additionally, the site is fully optimized to shop up higher in search engine results and has improved traffic and leads. 40 online registrations were produced in the first five weeks of the launch.
The Nationals Gala is one of the building industry's most prestigious events. Now in its 36th year, The Nationals pays tribute to superior sales and marketing achievements by individual professionals, homebuilders and associates, and sales and marketing councils and salutes their determination, integrity, creativity and endurance. For more details about The Nationals, visit http://www.thenationals.com.
For more information about the services offered by mRELEVANCE, visit http://www.marketingrelevance.com.
About Marketing RELEVANCE: mRELEVANCE, LLC creates relevant marketing and communications that reach audiences with focused and strategic messages. Through technology and creative content, messages are delivered to target markets to encourage customer action and interaction.
With offices in Atlanta and Chicago, mRELEVANCE can connect your company with buyers and build relevant relationships nationwide. For more information, visit http://www.MarketingRELEVANCE.com, Like us on Facebook at http://www.Facebook.com/mRELEVANCE, Follow us on Twitter at @mRELEVANCE or call 770-383-3360 or 847-259-7312.