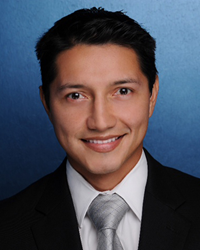 Our top priority is helping all MIAMI members achieve the highest level of professionalism while delivering the highest level of service to our customers
Miami, FL (PRWEB) February 15, 2016
The nation's largest local Realtor association has elected Miami Beach Realtor Carlos Gutierrez, P.A. as its 2016 Residential President. He and the entire Board of Directors were installed Feb. 12 at the MIAMI Association of REALTORS® (MIAMI) Annual Inaugural and Awards Luncheon.
The Residential Board of MIAMI is dedicated to leadership in the industry, the real estate profession, and the communities it serves. MIAMI residential leaders impact key policy decisions and issues affecting the residential real estate industry. They analyze information, are actively and visibly involved in events and programming, and promote Miami and South Florida worldwide. The association represents 41,000 residential, commercial, and international real estate professionals.
"Our top priority is helping all MIAMI members achieve the highest level of professionalism while delivering the highest level of service to our customers," Gutierrez said.
Gutierrez is the Principal Realtor at Gutierrez Group Miami Real Estate at Keller Williams Miami Beach. In his 13th year in real estate, Gutierrez specializes in working with attorneys and their clients in legally complex real estate transactions.
An immigrant from Bogota, Colombia, Gutierrez was the first in his family to graduate from college. After graduating from Florida International University with honors in 2003, Gutierrez began his real estate career in 2003 with Wells Fargo as a lender. He also secured his real estate license and began buying and selling his own properties.
In 2005, Gutierrez joined the firm United Realty Group. Gutierrez eventually opened his own URG branch and managed to grow the office to 72 Realtors. He was also admitted into the Million Dollar Guild through the Institute of Luxury Home Marketing for his performance in the top 10 percent price point of the market.
Gutierrez, who launched Gutierrez Group Miami Real Estate in 2013, has shown significant leadership involvement in his community. He was a Pillar Trustee of the Miami Beach Chamber of Commerce and served on its Real Estate and Law Councils. He serves his country through his voluntary service in the United States Coast Guard Auxiliary as an interpreter in three languages and as a Flotilla Staff Officer. Gutierrez is also a longtime member of Business Network International, the longest business networking organization in the world. In 2011, became the founding president of his own successful chapter.
Gutierrez is a Florida Realtors State Director and serves on the Board of Directors for the National Association of REALTORS® (NAR). The 2014 Realtor Political Action Committee Chairman, Gutierrez led the charge in fighting for homeownership rights and continues to advocate for homeowners and Realtors in his involvement with MIAMI.
Announcing the 2016 Residential Board
Joining Gutierrez on the board are 2017 Residential President-Elect George C. Jalil, RAA, TRC of First Service Realty, Real Living; 2015 Residential President Christopher Zoller, CRS; Governor Alma Betancourt of RE.MAX Horizon Realty; Governor Eddie Blanco of 5 Diamond Management & Real Estate, LLC; Governor David L. Carlisle of Keller Williams Realty; Governor Ines Hegedus-Garcia of Related ISG International Realty; Governor Sandra Fernandez of A 1 International Realty; Governor Enrique Lopez of Town Realty LLC; Governor Vivian Macias, CDPE, CRS, GRI, SFR of Principal Properties, Inc.; Governor Oscar I. Marti of Concierge Realty Group LLC; Governor Christina Pappas of The Keyes Company, Inc.; Governor Martha Pomares, CRS, CIPS, GRI, ePro of Berkshire Hathaway HomeServices Florida Realty; Governor Oscar Resek, P.A., CRS, CIPS of Keller Williams Eagle Realty; Governor Michelle Rojas, CRS, PMN, GRI, ePro, SFR, TRC, CDPE, RSPS of Keller Williams Realty; Governor Madeleine Romanello, ABR, CRS of ONE Sotheby's International Realty; Governor Terry Schreiber of EWM Realty International; Governor Albert A. Yabor, P.A. of YES Real Estate Services.
Deborah Boza-Valledor, CIPS, CRB, CRS, GRI, TRC, RSPS, AHWD serves as COO and Chief Marketing Officer for the MIAMI Association of REALTORS®, and Teresa King Kinney, CAE, RCE, CIPS, TRC, serves as the CEO.
About the MIAMI Association of REALTORS®
The MIAMI Association of REALTORS® was chartered by the National Association of Realtors in 1920 and is celebrating 96 years of service to Realtors, the buying and selling public, and the communities in South Florida. Comprised of six organizations, the Residential Association, the Realtors Commercial Alliance, the Broward Council, the Jupiter Tequesta Hobe Sound (JTHS) Council, the Young Professionals Network (YPN) Council and the award-winning International Council, it represents more than 41,000 real estate professionals in all aspects of real estate sales, marketing, and brokerage. It is the largest local Realtor association in the U.S., and has official partnerships with 136 international organizations worldwide. MIAMI's official website is http://www.miamire.com.
###