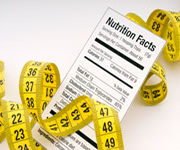 Heart disease is a leading cause of premature death in the United States, and American Heart Month works to raise awareness and ensure the population knows the severity of the issue.
Denver, CO. (PRWEB) February 11, 2016
Food Labeling for American Heart Month
The American people have become more actively engaged in health and wellness best practices in the past couple of decades, and food manufacturers and distributors cannot underestimate the importance of riding this trend. February is American Heart Month, which acts as an exceptional opportunity to revise food labels and stickers to focus on the healthy aspects of products and communicate the availability of these items.
With the right nutrition labels, companies draw consumers to products throughout the year, but heart-healthy items can propel greater sales and boost customer retention throughout February and all year. The trick is to ensure the labels represent the brand, support American Heart Month and inform customers to what heart-healthy ingredients are in the product.
Tips to Excel
Health food labels labels are in style, meaning manufacturing and distribution companies operating in the food and beverage markets will be vying for the same eyes of customers in the stores. Custom designs help differentiate a product from the competition. Because American Heart Month is a national event with its own themes and efforts for raising awareness about the risk of heart disease and methods to minimize relevant threats, the designs should echo these drivers.
"Heart disease is a leading cause of premature death in the United States, and American Heart Month works to raise awareness and ensure the population knows the severity of the issue," AnneMarie Campbell, Director of Business Development at Lightning Labels, explained. "Food industry players should take this opportunity to contribute to the cause by adjusting their food and beverage product labels to support efforts to drive down the rate of individuals who fall victim to this disease each year."
Move Quickly
February is already underway, meaning the time is now to get moving on projects to design, print and release labels and stickers that will help align food and beverage products with the themes of American Heart Month. With the right label provider, these matters can be handled quickly and efficiently to ensure that the products on the shelves are prepared to raise awareness through the next few weeks.
About Lightning Labels:
Lightning Labels uses state-of-the-art printing technology to provide affordable, full-color custom labels and custom stickers of all shapes and sizes. From small orders for individuals to the bulk needs of big businesses, Lightning Labels is equipped to handle and fulfill custom label and sticker projects of all types. Best of all, like the name implies, Lightning Labels provides a quick turnaround for every customer's labeling needs. Uses for Lightning Labels' custom product labels and custom stickers include food packaging and organic food labels, wine and beverage labels, bath and body labels, and nutraceutical products, such as vitamins, essentials oils, and herbal remedies, as well as event stickers, adhesive window stickers and more. Lightning Labels strongly supports the development of environmentally friendly printing materials and carries EarthFirst PLA, a new kind of green label material made from corn instead of petroleum. While operating as a high-tech printer, Lightning Labels prides itself on its personalized customer service. Lightning Labels provides one stop shopping for all of your custom label needs. For more information and to place orders online, visit LightningLabels.com. For the latest in packaging news and labeling promotional offers, find Lightning Labels on Twitter (@LightningLabels), Facebook, Pinterest, Google and LinkedIn.