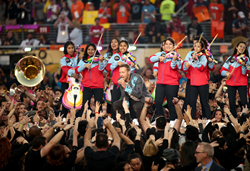 "Harmony Project has the right formula, building upon the premise that each child is precious, each child matters and each child is valued," said Barry Bittman, MD and CEO, Yamaha Music and Wellness Institute.
PITTSBURGH (PRWEB) February 10, 2016
Los Angeles-based Harmony Project today announced that it is working in partnership with the Yamaha Music and Wellness Institute to accelerate nationwide expansion of its innovative 'Mentoring Through Music' program.
During the halftime show of this past Sunday's Super Bowl 50, Harmony Project students from Youth Orchestra Los Angeles (YOLA) realized a dream of a lifetime by performing under Gustavo Dudamel, world-renowned conductor of the Los Angeles Philharmonic Orchestra in front of more than 100 million television viewers with Chris Martin and Coldplay.
Many of these young musicians were from Los Angeles' most underprivileged communities, effectively illustrating how music can enable low-income children and families to advance beyond seemingly insurmountable obstacles.
Making the difference is Harmony Project, a remarkable music-based mentoring program founded in 2001 by Dr. Margaret Martin with a small, dedicated team.
"The inspiration for Harmony Project came from a posse of Los Angeles gang members with shaved heads, tattoos and oversized clothing," explains Dr. Martin. "They were walking through a farmer's market and stopped to listen to a small child playing Brahms on a tiny violin. After five or six minutes, I watched those gang members take out their own money and lay it gently in the child's case."
That child was her son, and that moment became the inspiration for a transformational program that currently serves more than 2,000 students across half of Los Angeles' 21 designated gang reduction zone neighborhoods. To date, affiliated programs have launched in Ventura, Calif., New Orleans, Tulsa, Okla., Kansas City, Mo., East St. Louis, Ill., Phoenix, San Francisco and Hudson, N.Y.
Harmony Project's new partnership with the Yamaha Music and Wellness Institute will facilitate expansion of the program to other cities across the country, largely through the introduction of a collaborative training strategy for both program facilitators and local agencies committed to sustaining "Harmony Project of America" programs in their respective communities. The new alliance will also track the progress of each child in the program, to create a robust central data repository for both short- and long-term outcomes-based research on the impact music has on underprivileged communities and individuals.
According to Barry Bittman, MD and CEO of the Yamaha Music and Wellness Institute, this alliance will not only serve those in need, but it will also facilitate a better understanding of how music can optimize the potential of each child in the face of life's greatest challenges.
"Harmony Project may very well be the antidote for the challenges low-income communities face, such as alienation, distrust, poverty, crime and gangs that thwart each child's potential to thrive," said Dr. Bittman, who felt drawn to another key element of the program: long-term success.
According to Dr. Martin, 100 percent of Harmony Project's Class of 2015 went on to colleges such as Dartmouth, Tulane, NYU, USC, UC Berkeley, UCLA and dozens more – this, despite dropout rates of nearly 50 percent and low rates of college participation in neighborhoods where these students live. Harmony Project students were in the program an average of 6.9 years, and nearly all were the first in their families to attend college. Interestingly, most of the program's grads do not major in music – in fact, more than one-third enter as STEM majors. Despite the challenges that plague the neighborhoods where its students live (and where it intentionally sites its programs) Harmony Project students are thriving, with two Fulbright Scholars and its first doctor graduating last spring.
Harmony Project's overwhelming success earned the ultimate recognition in 2009, when Martin accepted the nation's highest award for an arts-based youth program – a Coming Up Taller Award (now known as the National Arts and Humanities Youth Program Award) from First Lady Michelle Obama.
To Bittman, Harmony Project aligns precisely with his published research findings focusing on creative musical expression as a catalyst for quality of life improvement in inner city teens.
"The philosophical underpinnings of the program strongly resonate with what we've discovered over the years. Harmony Project has the right formula, building upon the premise that each child is precious, each child matters and each child is valued," said Bittman. "Yamaha Music and Wellness Institute welcomes the opportunity to explore how more advanced children can serve as mentors to build character and leadership potential in a transcendent manner. The true distinguishing factor, however, rests in Harmony Project's ongoing and sustainable commitment to optimizing the growth and development of every child, which in turn, serves as a powerful catalyst for healthier communities."
About Harmony Project
Harmony Project is a not-for-profit 501(C)(3) organization dedicated to promoting the healthy growth and development of children through the study, practice and performance of music; to building healthier communities by investing in the positive development of children through music; and to developing children as musical ambassadors of peace, hope and understanding amongst people of diverse cultures, backgrounds and beliefs.
About Yamaha Music and Wellness Institute
Yamaha Music and Wellness Institute is a not-for-profit 501(C)(3) organization dedicated to interdisciplinary development, scientific investigation, professional training and clinical amalgamation of active music participation strategies with integrative evidence-based medical insights for the purpose of enhancing quality of life for individuals of all ages regardless of race, ethnicity or disability.