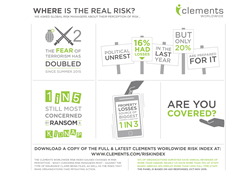 Washington, DC (PRWEB) February 10, 2016
Who:
Leaders who are worried about impending risk at their global organizations need to attend. Humanitarian aid organizations, government contractors, universities with students abroad, or global manufacturers should be prepared for events that could endanger staff and assets. Learn from industry experts and peers how to evaluate and prepare for threats to operations.
Press also welcome. Please register with John Jordan of Principor Communications (jjordan(at)principor(dot)com).
What:
The latest Clements Worldwide Risk Index highlighted that concerns over risks from terrorism have doubled over the past 6 months and 16% of organizations had losses due to political unrest over the last year. The humanitarian aid organizations that completed the survey had even more disturbing results with 25% of humanitarian aid organizations reporting losses due to political unrest over the last year and 1 in 5 delaying expansion of their work.
Cyber terrorism, and the subsequent liability that follows, was ranked as the top concern by 27% of respondents and the source of highest losses by 22% --another category where attacks are becoming more common and unpredictable.
Panelists for the event will include:

Smita Malik, VP of Special Programs & Risks at Clements Worldwide
Josh Rogin, Bloomberg View national security and foreign affairs columnist and CNN political analyst
Laura Schauble, VP of Risk Management at ACDI/VOCA
The program will start with a short presentation by Clements Worldwide President Chris Beck on the top risks Clements is monitoring in 2016.
Where:
Clements Worldwide's New Headquarters
1301 K Street NW
Penthouse Conference Room in West Tower
Washington, DC 20005
When:
February 19, 2016
11:30 AM to 1:30 PM
Lunch will be served
How:
Register here: http://events.constantcontact.com/register/event?llr=hqynybcab&oeidk=a07ec640nvzebb39b9b Space is limited
About the Clements Worldwide Risk Index
The Clements Worldwide Risk Index is based on an online survey conducted from October 2015 to November 2015. Risk managers and other managers in 420 global organizations in the global humanitarian aid, oil and gas, logistics and other sectors participated in this second survey. For more information on the Clements Worldwide Risk Index and its methodology, visit http://www.clements.com/riskindex.
About Clements Worldwide
Clements Worldwide is a leading insurance provider for expatriates and international organizations. Founded in 1947, Clements offers international car, property, term life, health, specialty and high-risk insurance in over 170 countries. With offices in Washington, D.C., London, and Dubai, Clements delivers comprehensive and customized coverage, superior customer service, and unparalleled claims response. To learn more or receive a quote online, visit http://www.clements.com.