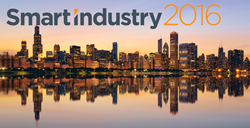 From the oil patch to the assembly line, industry is being remade through digital technology, resulting in safer, more efficient, more productive and more agile operations
SCHAUMBURG, Illinois (PRWEB) February 10, 2016
Putman Media today officially announced that the second annual Smart Industry 2016 will be held September 26-28, 2016 at The Drake Hotel in Chicago, IL. Building from the success of an October 2015 launch, attended by GE, Emerson, Microsoft, Boeing, Dow Chemical, Whirlpool, Dana Corp. and many others, the event will once again convene leading industry technologists, early manufacturer adopters, and solution providers to discuss the opportunities of the manufacturing industry's digital transformation.
"From the oil patch to the assembly line, industry is being remade through digital technology, resulting in safer, more efficient, more productive and more agile operations," said Keith Larson, Putman Media's VP Content. "Our mission is to facilitate knowledge exchange, explore emerging best practices and spur business development among the global community poised to turn this vision of the next industrial revolution into reality."
The final 2016 agenda is set to be released later this month, and will feature an expo with latest technology demos, influential keynoters, a start-up competition, networking events, and content focusing on industrial applications, IT/OT convergence, cloud & mobility, and emerging technologies. Those interested in attending can take advantage of super early-bird savings by registering today at http://event.smartindustry.com/register/. For information on how to sponsor or exhibit, visit http://event.smartindustry.com/exhibitors/. Those interested in speaking can submit an application here: http://event.smartindustry.com/speakers/ .
About Smart Industry
Smart Industry is a conference & expo, print publication and online information resource created to accelerate the ongoing digital transformation of manufacturing and related industries, as represented by the convergence of information and operational technologies and industrywide movements such as the Industrial Internet of Things (IIoT), Industrie 4.0 and big data analytics. For additional information, visit event.smartindustry.com and http://www.smartindustry.com
About Putman Media
With decades of experience in B2B, Putman Media delivers unique, relevant and integrated media services and solutions that enable customers to compete in an aggressive environment. It produces several specialty publications and a variety of industry-specific events focused on innovation, thought leadership, and executive networking. For more information, visit http://www.PutmanMedia.com