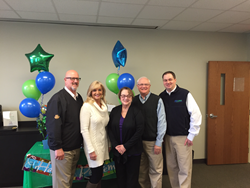 Plainfield, Ill. (PRWEB) February 25, 2016
After 34 years with Spring-Green Lawn Care Terry Bradford, vice president and Chief Operating Officer of the company-owned division (Superior Lawns), announced his retirement effective December 2015. Rick Helfrich, a nine-year veteran of Spring-Green, will take over for the outgoing Bradford.
Bradford began his career with Spring-Green in 1981 as a franchise support representative (now known as a business consultant), with seven years of prior experience in the green industry. "My wife and I were just married, when I answered an employment ad in a lawn care industry magazine," Bradford recalled. "Spring-Green was seeking an individual to work as a support rep with independent franchisees within a young and growing company in the Chicago area."
During his 30-plus years with the company, Bradford was promoted to a branch manager at the company-owned franchise in northeast Wisconsin, and later he was named vice president of operations for the company-owned division known as Superior Lawns.
Bradford credits his success and longevity to the mentoring of Tom Hofer, owner of Spring-Green. "Tom was the guiding light for the company and greatly influenced my perspective in both my personal and professional life," he said. "Because of his influence, Spring-Green is what it is today, a thriving organization with many success stories, not only personal successes, but business successes."
Now run by Tom's son Ted, Bradford is confident that the second generation of Spring-Green will take the company to new heights. "What started as a family run business has grown, and it has even greater growth potential for the future," he said.
Even in retirement, Bradford plans to stay close to the company, anticipating regular contact both with Rick Helfrich and Ted Hofer. "My most memorable moments at Spring-Green are the close relationships built over the years with so many wonderful individuals," he explained. "Spring-Green's ability to retain staff and franchisees is the result of providing an environment which promotes goal achievement with continued success both personally and professionally."
About Spring-Green Lawn Care
Founded in 1977, Plainfield, Illinois-based Spring-Green Lawn Care has been delivering lawn and tree care services nationwide for more than 39 years. Its service is centered on the beautification of residential and commercial customers in middle-class and affluent neighborhoods and communities.
Spring-Green is an attractive opportunity for entrepreneurs and existing green industry business owners who want to align themselves with a business model that has proven economic resilience, healthy profit margins, industry leading business and marketing intelligence, recurring revenue and retirement and succession planning. For more information, visit http://www.springgreenfranchise.com.
Contact: The Burris Agency, Inc.
Jack Burris
704-557-0304
jburris(at)burris(dot)com
February 5, 2016