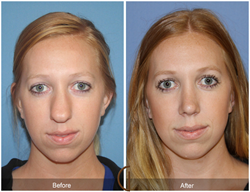 While many believe plastic surgery to be the domain of Caucasians, recent research has shown that with plastic surgery becoming more mainstream
Newport Beach, CA (PRWEB) February 25, 2016
According to a report from the Society of Plastic Surgeons, in 2014 alone more than 15 million cosmetic surgery procedures were performed. The report also revealed that 1.6 million of these procedures were performed on Latinos, 1.3 million were performed on African Americans, and 1 million were performed on Asians. Statistics from ABC support these findings, revealing that from 2005 to 2013, plastic surgery increased 84 percent among Latinos, 56 percent among African Americans and 126 percent among Asians.
"While breast augmentation is still the number one cosmetic procedure among Caucasian Americans, other procedures have risen in popularity among minorities," Dr. Sadati explains. "Eyelid surgery is one of the most sought after procedures in Asian cultures, for example." According to the American Society of Plastic Surgeons, eyelid surgery, also known as blepharoplasty, is the most sought after procedure, especially in countries like Japan and South Korea. Surgeons have concluded that this is because Asian peoples are born with monolids, or eyelids that do not have a crease. With blepharoplasty, a skilled surgeon can create a double eyelid, a look that is unique to Westerners and other ethnicities.
"Another rising trend is ethnic rhinoplasty. This is the reshaping of the nose without erasing distinctively racial characteristics," Dr. Sadati explains. "It is popular among many different ethnicities including African Americans, Middle Easterners, and peoples from the Mediterranean. According to the American Society of Plastic Surgeons, African Americans, for example, may seek ethnic rhinoplasty to reduce the size of their noses to achieve a more harmonious balance with their other facial features. Other ethnicities, including peoples from the Middle East, may also go under the knife for the same reasons. People of Middle Eastern decent tend to have noses that are larger than those of Caucasians. They may also have distinct nasal features like drooping nasal tips or 'bumps' on the bridge of the nose. Rhinoplasty can reduce the size of the nose as well as define the nasal tip and bridge, even without eliminating the patient's ethnic appearance."
Dr. Sadati also notes that skin lightening is a growing trend. There are a range of creams and lotions specifically designed to "whiten or lighten" skin. Internationally, these products are common and popular. Dr. Sadati explains that "Asian cultures tend to favor lighter colored skin because there is a long tradition of light skin being equated with beauty. There is also a class element. If you have lighter skin, you are not working in the sun. This is an important class distinction in an agricultural society."
Dr. Kevin Sadati has over a decade of experience performing a wide range of cosmetic procedures. He is well-respected among his peers and noted for his procedures producing natural looking and long lasting results. Along with offering great results, Dr. Sadati uses local anesthesia and twilight sedation as opposed to general anesthesia. By making this adjustment in his procedures, Dr. Sadati offers patients a more cost-effective and safer option, as well as a shorter recovery time. For more information, visit Dr. Kevin Sadati and the Gallery of Cosmetic Surgery website at http://www.drkevinsadati.com.