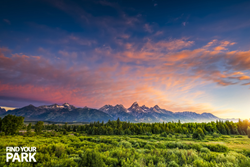 Insight Vacations secures the most scenic hotels in prime locations among the treasured landscapes of Yosemite, Mesa Verde and Yellowstone National Parks.
DELRAY BEACH, Fla. (PRWEB) February 09, 2016
Insight Vacations®, the leader in premium escorted journeys, invites guests to explore America's extraordinary national parks in commemoration of The National Park Service's 100th anniversary this year.
Although it's too late for independent travelers to book the coveted hotels inside the National Parks – rooms sell out years in advance – Insight secures the most scenic hotels in prime locations among the treasured landscapes of Yosemite, Mesa Verde and Yellowstone National Parks. The new 2016/17 USA, Canada & South America brochure features tours visiting 30 national and state parks. Here are some of our favorites:

Yellowstone National Park: Gorgeous and seemingly limitless, Yellowstone is the quintessential National Park. Most famous for its geysers and hot springs, Yellowstone also offers more than 3,400 sq. ft. of sprawling forests and meadows. This park is home to the country's largest collection of elk and bison as well as flourishing populations of wolves, grizzlies, antelope and moose. Go there on: "American Parks Trail" – Nine days reliving the rustic Wild Wild West. Other highlights include Grand Teton National Park, Custer State Park, Mount Rushmore and the Crazy Horse Memorial.
The Grand Canyon: Even the most spectacular photos don't do this view justice. One of the world's seven natural wonders, this masterpiece has been crafted for the better part of two billion years (about half of the Earth's total lifespan). The mighty Colorado River continues to carve through 277 miles of the canyon below, while the top rims play hide-and-seek with the clouds. Go there on: "Wonders of the American West" – 10 days exploring the American West's most exquisite natural wonders and dazzling panoramas. Additional stops include Point Imperial, Lake Powell, Monument Valley, Mesa Verde National Park, Anasazi Heritage Center, Arches National Park, Canyonlands National Park, Capitol Reef National Park, Grand Staircase-Escalante National Monument, Bryce Canyon National Park and Zion National Park.
Zion National Park: The climbing white-and-red cliffs of Zion Canyon make it one of Utah's most vibrant natural landscapes. Zion enjoys a lower elevation, so lush vegetation thrives and majestic rock formations are offset by hanging gardens and meadows of mesa-top wildflowers. Go there on: "Enchanting Canyonlands" – Seven days exploring the colorful panoramic stage of the American Southwest. Enjoy ample time at each destination, including Bryce Canyon National Park, Lake Powell, Monument Valley, Glen Canyon Dam, Oak Creek Canyon and Sedona.
For more information, please visit us at http://www.insightvacations.com, and join the conversation using the hashtag #InsightMoments on Facebook and Twitter. For reservations, contact your favorite travel agent or call Insight Vacations at (888) 680-1241.
About Insight Vacations
For more than 38 years, Insight Vacations® has been designing the world's finest escorted travel itineraries. As the experts in Europe, Insight offers over 100 journeys across the continent, covering more of Europe than any other operator. Insight Vacations also offers the same legendary high standards and carefully curated itineraries in North America, South America, India, Bhutan, Nepal, Morocco, Egypt and Israel.
Luxury Gold by Insight Vacations is an exclusive collection of unique journeys that elevate travel beyond the ordinary at every moment. Guests traveling with Luxury Gold stay at the finest hotels, dine on the epicurean regional cuisine at featured Michelin-starred restaurants and enjoy an unmatched collection of once-in-a-lifetime experiences and sightseeing.
All Insight itineraries are expertly designed for smaller groups with a maximum of just 40 guests. Each tour includes the services of an experienced Tour Director who acts as "traveling concierge," and Signature Experiences that provide a unique and revealing look into the history and culture of each destination. The authentic flavors of each country are celebrated through included Signature Dining experiences, Insight hotels are handpicked for their high quality and desirable central or scenic locations and the Insight motorcoach is specially customized to provide Business Class legroom. With the perfect balance of guided and independent exploration Insight has reimagined vacations to truly escape from the ordinary.
About The TreadRight Foundation
Created as a joint initiative between The Travel Corporation's family of brands, The TreadRight Foundation is a not-for-profit that works to help ensure the environment and communities we visit remain vibrant and preserved for generations to come. To date, TreadRight has supported more than 35 sustainable tourism projects worldwide. The foundation's guiding principle is to encourage sustainable tourism development through conservation, leadership and support for communities.
TreadRight's past project partners include WWF, Conservation International and The National Trust in the UK. Current initiatives include sponsoring the National Geographic Society's inaugural "World Legacy Awards," helping to combat wildlife crime with WildAid, and empowering individuals with the Alliance for Artisan Enterprise.
To learn more about our past and current work at TreadRight, please visit us at TreadRight.org.
###