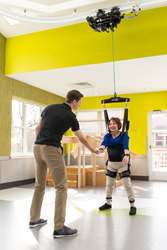 Accurately quantify improvements in gait, balance and postural control
Ashburn, VA (PRWEB) February 17, 2016
Aretech announced today that the ZeroG Gait and Balance Training System will now feature APDM's Mobility Lab for comprehensive gait and balance assessment. APDM technology includes wearable sensors that provide sensitive, validated and reliable outcome measures of rehabilitation interventions. When combined with ZeroG, therapists now have the opportunity to treat their patients with the highest level of safety and treatment options, and then accurately quantify improvements in gait, balance and postural control.
"We've always known ZeroG is the most advanced rehabilitation system in the world; however the one piece we were missing was the ability to accurately assess improvements in walking, postural stability, turning, sit to stand and other ADL tasks with validated measures. By integrating ADPM's Mobility Lab into the ZeroG framework, therapists can now track outcomes with a variety of clinical scales and store this information in ZeroG's secure patient database," said Joe Hidler, CEO of Aretech. "We are looking forward to this new partnership with APDM and continuing to advance rehabilitation options for so many patients, therapists and researchers who use our technology."
"Through comprehensive validation against motion analysis and clinical measures, Mobility Lab is the most trusted wearable sensor technology on the market for quantifying gait and balance," said Matthew Johnson, General Manager of APDM. "Pairing our technology with Aretech's ZeroG is a perfect match to help make it easy for therapists to collect, analyze and store valid outcome measures to justify treatment."
Advantages of ZeroG

Safely treat a wide range of patient sizes and clinical diagnoses across a wide range of therapeutic activities
Therapy intensity can be modulated through high-level dynamic body-weight support
Real-time biofeedback and games motivates patients
Lowers the risk of injury to patients and therapists
Easy to use, with short setup times
Advantages of Mobility Lab

Justify treatment with evidence-based practice
Analyze outcome measures with functional tests such as timed up and go, 2 minute walk and sit to stand
Accurately measure minimally-detectable changes in gait and balance
Record natural movement, activity levels, gait, balance, turning, tremor and intervention response
About Aretech, LLC
Aretech, LLC, based in Ashburn, Virginia, is the world leader in robotic overground body-weight support systems. The company has a strong commitment to quality, innovation, and developing technology based on evidence-based research. Additional information about Aretech can be found at http://www.aretechllc.com.
About APDM, Inc.
APDM Inc., based in Portland, OR, produces the highest quality wearable sensors on the market; used by hundreds of universities, hospitals, and professional sports teams worldwide. APDM's mission is to develop and commercialize best-in-class solutions for quantifying human movement with wearable technologies. Additional information about APDM can be found at http://www.apdm.com.