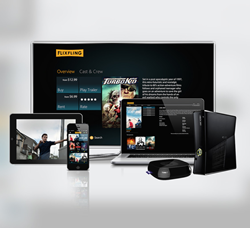 Philadelphia, PA (PRWEB) February 10, 2016
Philadelphia-based FlixFling streaming video service and Consolidated Communications, Inc. (Nasdaq: CNSL) have inked a deal to bring FlixFling's over-the-top (OTT) video offerings to Consolidated Communications (CCI) customers. This partnership gives CCI customers access to tens of thousands of hours of additional content across a wide range of connected devices. CCI is the first operator to offer FlixFling to its subscribers.
FlixFling is a unique hybrid service offering movies and television, to rent or buy On Demand, as well as multiple subscription channel offerings which include the new Documentary Channel, DOX, Monsters and Nightmares, CineFest and others. FlixFling boasts tens of thousands of titles from major studios to festival favorites available to stream instantly across a wide range of devices and platforms including TiVo, Xbox, Roku, Opera, Vizio, Samsung, IOS, Android, Chromecast and others.
CCI residential broadband customers across an 11-state territory, can now stream FlixFling's content across their devices.
"This partnership with FlixFling is a significant step forward as we continue to evolve our broadband services to include more over-the-top offerings," said Michael Smith, chief marketing officer for Consolidated Communications. "Our customers are looking for more content and flexibility in how they view it, and FlixFling helps us meet those demands."
"We are very excited to bring the FlixFling experience to Consolidated Communications customers," said Thomas Ashley, FlixFling's CEO. "We believe this will truly round out the customer experience giving them tremendous value with more access to content, including great exclusives and the flexibility to access it anywhere on their favorite devices."
New CCI subscribers to FlixFling receive a free 14-day trial and a free non-subscription On Demand movie rental. Subscribers who keep the service after the trial will get a free non-subscription On Demand rental every month. As part of the initial offering, Consolidated Communications customers will also receive a discount on all On Demand purchases and rentals.
ABOUT CONSOLIDATED COMMUNICATIONS
Consolidated Communications (NASDAQ: CNSL) provides business and broadband communications services across its 11-state service area. For more than a century, the Company has consistently provided innovative, reliable, high-quality products and services over an expanded fiber optic network. Consolidated Communications offers a wide range of communications solutions including: High-Speed Internet, Digital TV, Data, Phone, managed and cloud services and wireless backhaul. Learn more about Consolidated Communications at http://www.consolidated.com.
ABOUT FLIXFLING
FLIXFLING, LLC, is a streaming movie and television service based in Philadelphia, PA. FlixFling, is available on multiple devices and platforms including TiVo, Opera, Roku, Xbox, IOS, Android, Chromecast, Vizio, Samsung and others. FlixFling is a subsidiary of Invincible Pictures, a full service film production and distribution company. For more information, go to http://www.flixfling.com or http://www.invinciblepictures.com.
###