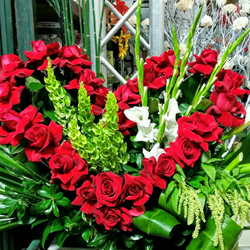 "The idea is you can have it all --even on a modest budget,"
Downtown Los Angeles, California (PRWEB) February 09, 2016
Cupid showers Valentine flowers, roses and chocolate edible bouquets 24/7 this weekend at California Flower Mall. Hundreds of varieties of farm fresh red roses and bargain buds are available from flower petalers up to 70% off retail prices.
Nationally, 36.4% of adults plan to spend a total of $1.9 billion, a survey high, on Valentine's flower gifts according to a National Retail Federation poll. " Valentine's flower shoppers are lucky to have the largest flower district in the U.S. right in their own backyard. They can buy DIY Valentine's flowers direct from the same source event designers and the floral trade shops and save money, "says Mark Chatoff, CFM owner and president.
It's paradise for procrastinators and a one stop shop for flowers and candy Chatoff adds, "Men often wait until the last minute to buy Valentine's gifts – CFM is here for them morning, noon and night. This is the only 45 vendor wholesale flower market open late evenings Valentine's week, Friday February 12 until midnight. Then all night - 32 hours straight - from 4:30 am Saturday February 13 to Sunday February 14 at 7 pm. There's no excuse to show up empty handed. "
The California Flower Mall restaurant, QQ Café has designed organic edible heart shaped Valentine's bouquets of chocolate covered strawberries accented with fresh red roses. "The idea is you can have it all --even on a modest budget," says Chef Ray Sanchez, owner of QQ Café. The heart shaped presentation stand is designed to look like sparkling jewelry. The larger size chocolate bouquet has a huge diamond bauble in the center. "Our customers love it because it's fresh, fun, sparkly, sweet and healthy," Sanchez added. 50% of consumers surveyed in the NRF Valentine's poll also plan to buy candy, spending $1.7 billion.
Ariana Gomez, spokesperson for the LA Fashion District, invites people to experience the gift of Valentine's weekend in the flower district. "This is the prettiest part of Downtown Los Angeles; the energy, vibrant colors and fragrances of L.A.'s dazzling flower district is a treasure to experience. California Flower Mall is the perfect place to start."
About California Flower Mall
The California Flower Mall, located at 825 San Pedro Street with parking at the 824 San Julian Street entrance, is one of the largest DIY wholesale flower marts in the eight block Downtown LA Flower District trade community -- the largest concentration of wholesale flower markets and flower businesses in the U.S. It is located in the LA Fashion District Business Improvement District.