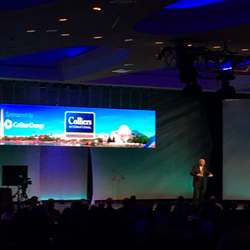 AMP releases Uber Manager App at Colliers America's Conference, showcasing the incredible technology they bring to the marketplace.
Silicon Valley, CA (PRWEB) February 10, 2016
This week AMP Technologies joined Colliers International at their annual America's Conference where great minds from around the globe come together to discuss the future of Commercial Real Estate. Enterprising professionals from Canada, Latin America and the U.S. have joined in Washington, D.C. for networking, educational sessions, and practice group meetings to discover what many may consider impossible. With the industry transforming very quickly, AMP along with other leaders have gathered to help kick off 2016 and make it the most powerful year in the industry yet.
AMP is proud to have sponsored this event; showcasing the incredible technology they bring to the marketplace and discussing one of their most exciting releases yet. AMP's own CEO, Neel Naicker will share his technology expertise with Colliers leadership focusing on the brightest capabilities in Commercial Real Estate. Mr. Naicker will also reveal the latest release, the Uber Manager App, which is not available anywhere else in the marketplace. Attendees of the Colliers America's Conference will be the first to know about the next moves AMP will make to continue to be the most innovative software company in Commercial Real Estate.
EXPERIENCE THE LATEST TECHNOLOGY TODAY – CLICK HERE
General Colin Powell, American statesman and retired four-star general in the Army spoke on Tuesday, February 9 at the Conference bringing an extremely powerful combination to the event. AMP is proud to be a part of this strong partnership with Colliers – here's to the relationships that will be built this year and many more to come!
ABOUT AMP TECHNOLOGIES – CLICK HERE
Headquartered in Mountain View, California, AMP Technologies provides a suite of products and services for commercial real estate asset management. The AMP Technologies Platform is a powerful, yet highly intuitive platform to monitor and manage individual properties and large portfolios. Its products are built on best-of- breed cloud technology and are designed for the modern enterprise to provide sophisticated business intelligence, collaboration and management tools. With a comprehensive, yet highly intuitive, platform for monitoring and managing individual properties to entire portfolios, AMP provides the key tools needed for every level of management for effective analysis and decision-making.