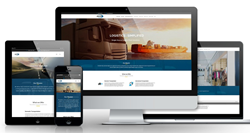 Our new website is the latest step we have taken to ensure that the client experience is better, simpler, and more efficient than ever before.
North Bergen, New Jersey (PRWEB) February 10, 2016
The new website, which is optimized for mobile devices, gives users one-click access to information about services by industry or service type. Pages were designed with busy clients in mind. Industry-specific pages highlight the services most critical to each industry, and Service-specific pages provide well-organized details that pro-actively answer questions most often asked by clients. In addition, current clients now have streamlined access to Axis' secure online project, transportation, and warehouse tracking systems.
"At Axis, our mission is to be the single point of contact through which our clients gain access to the highest quality, most comprehensive, and cost-efficient logistics support in the industry," said Wesley Cheringal, a Managing Partner and one of the company's founders. "As our business has grown and our service offerings have expanded in recent years, we wanted to ensure that our clients can easily review the many ways Axis can provide seamlessly integrated solutions to their most critical supply chain needs worldwide."
"We are committed to providing exceptional service at every touch point," said Tom Moleta, Vice Presidet of Marketing, "Our new website is the latest step we have taken to ensure that the client experience is better, simpler, and more efficient than ever before."
About Axis Global Logistics
Axis Global Logistics is a third-party logistics (3PL) provider with 12 locations and over 1,500 agents worldwide, including in North America, Europe, and Asia. Founded in 1997 by veteran logistics professionals with decades of experience, the company provides clients across a broad array of industries and business sectors with deep expertise in supply chain management and the highest level of quality assurance. Axis' industry-specific supply chain solutions are built on the knowledge of a powerful leadership team as well as industry-leading web-based technology that provides clients with flexibility and real-time visibility and control throughout the process. http://www.axisg.com