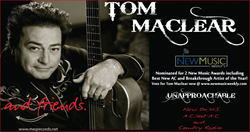 Tom MacLear was voted "New Music Weekly's Best New Country Band of 2015"
Hollywood, CA (PRWEB) February 11, 2016
Tom MacLear "NEW MUSIC WEEKLY'S Best New Country Band of 2015" has been nominated for: Adult Contemporary Best New Artist 2016 & Adult Contemporary Breakthrough Artist of 2016 for his Summer Radio Sensation 'UNAPPROACHABLE'. 'UNAPPROACHABLE' has garnered him with such honors as 'Favorite Male Artist' by the 'INDEPENDENT MUSIC NETWORK AWARDS'.
MEG Records & Tom MacLear would like to thank all of the fantastic radio stations and promoters who helped build 'Unapproachable' to such a huge radio and YouTube success!
MEG Records
If you would like to stream "Unapproachable" from Spotify, feel free to click here: https://goo.gl/vzgGvL