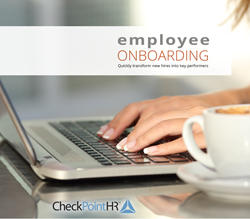 This product revolutionizes employee onboarding by turning it into a quick and simple activity for the new hire, rather than a tedious task for the HR department.
Edison, New Jersey (PRWEB) February 10, 2016
Employee benefit and HR technology innovator CheckPoint HR, Inc. today introduced a self-service portal designed to transform the way businesses manage employee onboarding. Integrated with CheckPoint HR's human capital management technology platform, the cloud-based onboarding solution eliminates data entry and minimizes errors by automating the tasks required for a compliant and consistent onboarding process.
The first 90 days are critical in determining whether a new employee will stay with an organization. That means the content and delivery of an employer's onboarding process can mean the difference between a failed hire and a long-term contributing employee. CheckPoint HR's self-service portal ensures a proficient process that reflects the organization's brand and messaging.
"This product revolutionizes employee onboarding by turning it into a quick and simple activity for the new hire, rather than a tedious task for the HR department," said Jim Pugliese, chief executive officer of CheckPoint HR. "It gets the HR team out of the data-entry business so they can focus on engaging and developing their new employee."
The platform ensures that each new employee receives a consistent onboarding experience and all the correct new-hire paperwork, including state-specific forms, so employers minimize exposure to fines and litigation. It offers:

Online forms (including W-4 and I-9) that obtain digital signatures
Auto populated form fields
Data synchronization and workflow notifications
Secure data storage
Configurable workflow and messaging
Employers can configure their onboarding portal's content based on their workflow and customize the look and feel to reflect their organization's brand.

Employers determine the required documents and the process for obtaining digital signatures and other approvals.
A custom welcome screen provides a to-do list for the new employee based on the selected workflow.
A self-service data sheet pre-populates the forms that follow so employees don't need to keep re-entering the same information.
Completed forms are securely stored in the "My Documents" section" so employers can always have them on hand.
The solution also offers a user-friendly management portal, so hiring managers can track employee progress through the system. The manager to-do list details tasks, including items to approve or documents to countersign. Managers can filter the information by employee, document or other criteria.
"This paperless onboarding platform aligns with our mission of delivering personalized solutions for controlling employee benefit and HR costs and managing compliance," said Pugliese. "We believe it fills a strong need for many employers and we're pleased to introduce it to the marketplace."
To learn more about CheckPoint HR's employee onboarding technology and services, call 800.385.0331 or visit http://offers.checkpointhr.com/demo-checkpointhr-onboarding-technology-
###
About CheckPoint HR
A total employee benefit and human resource solutions provider, CheckPoint HR empowers businesses of all sizes to save money and administrative resources while offering more choice and flexibility to employees. Our expert employee benefit team offers unrivaled expertise in employee benefit strategy, selection and administration. Our proprietary insurance marketplace, CheckPoint Choice, delivers a full-service private exchange that is affordable and easy to manage. Our technology fully automates the HR and employee benefits process from recruitment through retirement. Collaborating with our employee benefit and human resource experts, CheckPoint's software developers incorporated key industry best practices into a compliance-aware rules engine that takes the guesswork out of employee benefits and HR. The result is efficiency, accuracy, risk mitigation and significant cost savings. To learn more, visit http://www.checkpointhr.com or view a short video at https://www.youtube.com/watch?v=Xo5QBNX1Kw4.