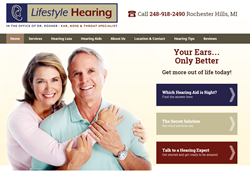 Rochester Hills, MI (PRWEB) February 10, 2016
As each new study is published, it's becoming clearer that the effects of hearing loss are more severe than simply missing out on a few conversations. While struggling to hear can be frustrating, the real danger of hearing loss lies in the more serious medical problems that the latest research has discovered.
To raise public awareness of these important findings, Lifestyle Hearing has published an article titled The Real Cost of Hearing Loss. The article discusses two studies in particular that those with hearing loss should be aware of.
The first study, published in the Journal of the American Geriatrics Society, shows that hearing loss is associated with accelerated cognitive decline in older adults. Similar studies have been conducted by Johns Hopkins University with similar findings, connecting hearing loss with cognitive decline, depression, and in some instances, dementia.
The second study, also out of Johns Hopkins University, has found a connection between hearing loss and higher mortality rates. While the connection between hearing loss and mortality is unclear, the thought is that hearing loss, by decreasing cognitive function, sociability, and physical activity, leads to a general decline in overall health.
The positive side to the research is the finding that hearing aids can prevent cognitive decline in older adults, thus avoiding several serious complications. The study published in the Journal of the American Geriatrics Society found that those who used hearing aids did not experience cognitive decline to a greater degree than those with normal hearing.
The implication is that wearing hearing aids stimulates the sound and language processing areas of the brain and keeps people socially and physically active—all leading to better overall health and a higher quality of life.
About Lifestyle Hearing
Lifestyle Hearing is a full-service audiology practice located in Rochester Hills, Michigan. The practice offers comprehensive hearing care services to help members of the local community hear better, live better, and reconnect with loved ones.
Contact:
Tiffany Sexton, Au.D.
Lifestyle Hearing
http://www.rochesterhillshearing.com
248-918-2490