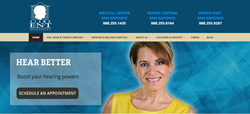 San Antonio, TX (PRWEB) February 10, 2016
Modern hearing aids are truly marvels of modern technology, equipped with advanced features like background noise suppression and wireless connectivity. But they weren't always like this. In fact, it took about 400 years of design, experiment, and improvement before hearing aids could take their modern form.
For most of human history, if someone suffered from hearing loss, their options were severely limited. So while it's easy to take for granted, 2016 is an age where most cases of hearing loss can be effectively treated. To put this in historical perspective, Alamo ENT Associates has recently published an article titled A Brief History of Hearing Aids.
The article takes the reader through 400 years of history by examining hearing aids and hearing loss treatment at four specific dates: 2016, 1985, 1940, and 1650. The reader is shown what their options would be for each year, and how technology has improved exponentially over time—even within the last five to ten years.
The first hearing instruments, referred to as ear trumpets, were developed in the 1600s. These devices relied on simple mechanical amplification and couldn't help with moderate to severe hearing loss. It wouldn't be until the 1940s that the first hearing aid based on electrical amplification would be developed. These hearing aids used vacuum tubes, were big and bulky, required large batteries, and amplified all sound instead of specific sound.
In 1985, hearing aids were built with transistors, but the devices were still cumbersome, expensive, and couldn't amplify specific sounds. It wouldn't be until 1995 that the first digital hearing aid was developed. From then on, hearing aids have become progressively smaller, more affordable, and better able to distinguish between beneficial sounds (like speech) and background sounds, which can now be suppressed.
About Alamo ENT Associates
Alamo ENT Associates is an established, well respected ENT group serving San Antonio, Texas for over 20 years. They offer the highest quality specialty care for all ear, nose and throat problems in both pediatric and adult patients. With seven board certified Otolaryngologists and several locations in the San Antonio area, they provide you with excellent, top rated service and care at convenient locations.
Contact:
Michael J. Hejl
Alamo ENT Associates
(210) 616-0096
http://www.alamoent.com