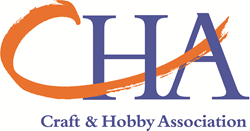 Elmwood Park, New Jersey (PRWEB) February 11, 2016
The Craft & Hobby Association (CHA) is pleased to announce the promotion of Maureen Walsh to Vice President of Membership and Marketing starting February 2016.
In her redefined role at CHA, Maureen will continue to lead all aspects of the Associations' Marketing Department and will take on the redefining and marketing the CHA Membership programs.
"We are excited to have Maureen Walsh transition into this role at the Craft & Hobby Association, in the capacity of Vice President of Membership and Marketing," said Mark Hill, President and CEO, CHA. "Maureen brings over 30 years of marketing expertise to the Association, with more than a decade of non-profit association experience. I believe that the integration of the two departments under Maureen's leadership will bring a more focused and enhanced member experience to CHA."
Since joining CHA in 2014 as the Vice President of Marketing, Maureen has led all marketing strategies and communications for CHA, including the newly designed and implemented CHA MEGA Conference & Trade Show website, chamegashow.org.
Maureen Walsh received her B.A. in Communications from Rutgers University. She has been the recipient of a number of awards in her career, including the iNova Website Award, NJ PRSA Pyramid Awards, the Creativity Certificate of Distinction (Art Direction Magazine) and Certificate of Graphics Excellence (Association of the Graphic Arts).
Prior to joining CHA, Maureen worked as a Chief Executive Officer for the Winn Feline Foundation in Wyckoff, NJ. Prior to that, she worked as the Chief Marketing Officer for the Institute of Management Accountants after a long career in marketing communications consulting.
###
ABOUT THE CRAFT & HOBBY ASSOCIATION
The Craft & Hobby Association (CHA) is an international nonprofit trade association consisting of thousands of member companies engaged in the design, manufacture, distribution and retail sales of products in the worldwide craft and hobby industry. For more information about CHA, membership or its award-winning CHA Conference and Trade Show, visit http://www.craftandhobby.org.