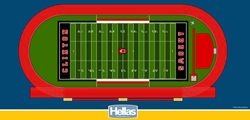 We feel that this will create a safer experience for our student-athletes and safety is our top priority.
Austin, TX (PRWEB) February 11, 2016
Hellas Construction's advanced infill technology leads to another new project partnership. Last month, the Clinton Public School Board District voted to install the Matrix ® Turf system with Geo Plus all-organic infill, making it the first project of its kind in Mississippi. The $1.7 M project construction and installation of the Matrix synthetic turf field, along with the accompanying epiQ Tracks ® Q3000, will break ground on February 15.
Geo Plus has been proven to reduce field temperatures by at least 40 degrees Fahrenheit, giving student-athletes an optimal temperature in order to perform to the best of their abilities. In addition to cooling capabilities, Geo Plus uses a combination of carefully selected, specifically treated, organic coconut fibers and cork to ensure a playing experience comparable to the highest-quality natural grass fields.
According to Dr. Phil Burchfield, Clinton Superintendent, turf temperature and overall safety were important factors in the district's decision when selecting to install the first organic infill in Mississippi. "The Clinton Public School Board voted to alter its original bid intentions to include the Cushdrain and the Geo Plus organic infill. This decision was based on the evidence related to the reduction of heat of the playing surface and the added cushion of the Cushdrain," said Dr. Burchfield.
The project also includes epiQ Tracks Q3000, offering track and field athletes a high-quality, durable, and resilient running track, suitable for all-weather use. The eco-friendly product installation of Matrix Turf and epiQ Tracks will offer athletes remarkable, safe playing surfaces for years to come. "We feel that this will create a safer experience for our student-athletes and safety is our top priority," said Burchfield.
The Matrix Turf multipurpose field with Geo Plus as well as the epiQ Tracks surface including areas for field events will be completed and ready for use by mid June 2016.
About Hellas Construction
Headquartered in Austin, TX, Hellas Construction, Inc. is one of the largest sports construction contractors in the United States. While specializing in the general construction of sports facilities and synthetic surfaces, Hellas also champions innovative artificial turf manufacturing, base construction, field, track and tennis planning, installation and maintenance. To learn more about Hellas Construction, visit hellasconstruction.com.
About Clinton High School
Clinton High School is a secondary school located in Clinton, Mississippi. The school is part of the Clinton Public School District and has an enrollment of more than 1,100 students. To learn more about Clinton High School, please visit http://clintonpsd.schoolwires.net/Domain/14.