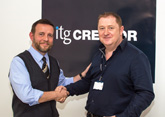 Birmingham, UK (PRWEB UK) 15 February 2016
The acquisition of Creator, which specialises in electronic customer relationship management (eCRM), will enable ITG to offer a deeper level of marketing intelligence and customer insight to clients.
Simon Ward, ITG chief executive, said: "Marketers increasingly rely on timely, relevant and personalised communications as they engage with customers across multiple channels.
"Providing the detailed customer intelligence to support marketers in developing their communications strategy is at the core of what Creator does.
"The acquisition appreciably extends our proposition in the era of big data. Creator's expertise perfectly complements the marketing services we currently offer."
Creator founder Mark Brennan, who continues as CEO of the renamed ITG Creator, said: "Joining the ITG family, with its highly regarded marketing technology and professional services, will significantly strengthen our offering to the retail sector, both at home and abroad."
ITG's award-winning Media Centre technology helps manage the marketing operations of major retailers and brands across Europe, including M&S, Audi, Pets at Home and Renault.
Creator's data management and analysis is already favoured by Virgin Media, Merck Sharp & Dohme and TUI Group.
Birmingham-based ITG recently opened offices in New York and Chicago to expand its operation into the USA. The group already has a mature operation in Europe and currently manages the creation and distribution of Heineken's below-the-line assets across more than 130 countries.
Mr Ward, who was recently named EY Midlands Entrepreneur of the Year, added: "We work with some of the most forward-thinking retailers and brands in the world. They are always innovating, and we have to innovate too, developing new technology and adding important new services and capabilities."
In 2015, ITG made a significant investment in retail agency Vitamin, boosting its ability to offer high-level retail strategy and consultancy to new clients, including Tesco and B&Q.
With the acquisition of Creator, ITG now employs over 500 marketing and technology specialists. ITG has grown significantly in the six years since it was established, recently joining The Sunday Times Tech Track 100 of the fastest-growing technology companies in the UK.
-ends-
Contact
Steve Parker, Inspired Thinking Group
0121 748 9950 x2186
Mob: 07808 314288/07801 447710
steveparker(at)inspiredthinkinggroup.com
Notes to Editor
About the acquisition
Ian Sale and Hertej Rattan from Lloyds Bank Commercial Banking provided senior debt facilities to support the acquisition.
Lloyds was advised by Emma Hinton, Paul Krivosic, Chereta Edmeade and Andrew Noble of Browne Jacobson LLP.
ITG was advised by Richard Sanders, Midlands managing partner of Catalyst Corporate Finance, and Mark Beardmore, Chris Archer, Richard Davies and Kate Clarke of Eversheds LLP. Diligence was provided by Thinking Legal LLP, Intuitus and John Houlden, Ben Collins, Linda Marston Weston and Josh Kroman of EY. Craig Le Grice of Hub and Lab worked on GTM Strategy.
Clearwater International, led by UK managing partner Phil Burns, associate director Helen Lowe and associate Stephen Nemeth, advised the management of Creator on the transaction.
About ITG
Founded in 2009, ITG is a specialist marketing services and technology business that helps major brands and retailers improve the efficiency, speed, cost and control of their marketing operations. Prior to the addition of Creator, it employed over 370 people.
ITG's head office and artworking studio are based at Fort Dunlop in Birmingham. It has a technology centre in Dartford, where it develops marketing resource management platform Media Centre. Media Centre manages all the marketing administration tasks faced by its clients, including briefing, requesting quotes, managing assets, approving artworks, planning campaigns, managing suppliers and reporting on all marketing activity.
It has recently opened offices in Chicago and New York, and has client offices in The Netherlands, France and Germany. Clients include Heineken, M&S, Audi, Tesco, Joules, Puma, Škoda, Pizza Hut, Renault, Sainsbury's, Bourne Leisure, Cath Kidston and Care UK.
About Creator
Westminster-based Creator was founded in 2005. It drives online revenue for B2B
and B2C clients through the development and management of eCRM initiatives across
all digital channels.
In 2015, it managed the strategic development of online sales and services for over three billion customer engagements.
Creator helps companies understand and react to customer behaviour, making sense of big data to turn it into revenue opportunities. It works in numerous sectors, including travel, retail, pharmaceuticals, healthcare, entertainment and education.
Creator's marketing products and services are used by major commercial organisations, including TUI Group, Liberty Global, Merck Sharp & Dohme, Virgin Media, Virgin Trains, Kwik Fit, Axa, De Vere, The Gym Club and David Lloyd Clubs.
The company has over 130 employees.