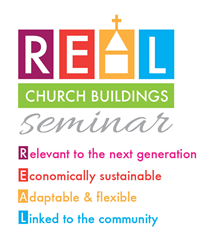 Ogden, UT (PRWEB) February 12, 2016
Building God's Way ("BGW"), a national church architect that has designed more than 700 ministry-related facilities, has been conducting free seminars for church leaders for over 10 years, reaching thousands of churches nationwide. This spring, BGW will continue it's popular "REAL Church" Seminar series, hosting free half-day events in 12 cities between March 16 and May 24.
Based on the book, "10 Tsunamis Impacting Ministries", written by BGW Founder and architect Dan Cook, this seminar will uncover the significant challenges facing ministries today and provide innovative strategies for not only surviving but thriving in the storm ahead. There is a wide swath of cultural and economic "tsunamis" taking place in our country today and Christian ministries are in the "eye of the storm". Churches must be willing to change in order to impact generations to come for the Kingdom. 
 
Attendees will learn about a paradigm shift in the design, construction, funding and use of ministry facilities. BGW Architects will share how "real" church buildings are transforming the way ministries are able to reach their community by leveraging relevant architecture and technology, economically sustainable solutions, adaptable and flexible spaces, and linkage with the community!  Church leaders will also hear about a revolutionary approach that integrates biblical stewardship, relationships and outreach, and cuts construction costs by 20-30%.
Funding for ministry growth or expansion has traditionally been limited to capital campaigns that rely solely on short-term donors. Experts will share about a comprehensive ministry funding solution that not only revolutionizes the capital campaign process, but also engages the entrepreneurs within the church and leverages the power of planned giving.
Seminar presenters will include Dan Cook, visionary architect and author of the recently published book, "10 Tsunamis Impacting Ministries"; Don Mahoney, award-winning church architect; Pastor Eric Bahme, author of the book "The Mission-Based Entrepreneur Revolution"; and Pastor Matt Roberts, Founder and Lead Pastor of The Genesis Project, a local church and national church planting movement that is experiencing tremendous growth.
For more information or to register for a seminar, visit http://www.bgwservices.com/seminar or call 800-752-7910.