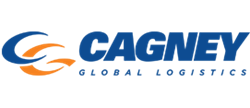 "Always do more than is required of you." — George S. Patton
(PRWEB) February 24, 2016
Cagney Global Logistics, a leader in providing logistical and transportation services, announced that it will serve as an Exhibitor for the 2016 Retail Supply Chain Conference February 28 - March 2 at the Gaylord Texan Resort and Convention Center in Dallas, TX.
Attendance and participation in this conference is always at the top of the list for serious supply chain providers. There are endless opportunities for networking as well as meetings, breakout sessions and idea exchange among some of the top people in the field of retail supply chain leaders.
In the ever evolving home delivery industry, Cagney Global continues to provide exceptional multi-channel distribution, service customization, supply chain optimization and unparalleled client support.
Rhonda Moon, Vice President of Client Solutions at Cagney Global said "Tom Cagney is uniquely qualified with the right business acumen to provide insights applicable to home delivery supply chains of all sizes and structures. Tom is an industry leader with proven results. Here at Cagney Global, we understand the challenges of our retailers and vendors. We go the extra mile to deliver product to the customer how they want, when they want it and with a laser focus on damage free deliveries. We do so by using multiple channels and various retail formats, all the while maintaining an outstanding experience for the customer."
Cagney Global Logistics is a supply chain solutions provider specializing in full-service, client-specific "gain sharing" programs. We bring transportation intelligence to your business, using customized solutions, giving you meaningful and measurable advantages. Our collaborative effort of people, technology and location allow our customers to gain differentiation in their target markets and win customers.
For over 29 years, Cagney Global Logistics has been a leader in global logistics, warehousing, distribution, local delivery, residential delivery, storage, reverse logistics, less than truck load (LTL) and full truck load. Cagney Global Logistics' dedication to teamwork, technological advancement and customer satisfaction has made the success of our customers the basis for our own.
Cagney Global Logistics has all the expertise, technology and resources needed to provide customized programs to our customers, and the management skills to execute these programs. We are a Cargo Network Services (CNS) endorsed agent, and use a combination of both owned and contracted assets to deliver an optimal transportation logistics solution to you. We offer a comprehensive menu of logistics services including Third Party Logistics, Business Process Outsourcing, Technology Services, as well as being a Global Transportation Provider.
At Cagney Global Logistics we are not content to simply meet our client's expectations – we are committed to exceeding them every single day. We are proudly based in Irving, TX, and are equally proud of the strategic partnerships we have built around the world. Please visit our website for more information. http://www.cagneyglobal.com